S.D. DEFENSE CO. WINS COMPETITION, INCREASES EXPORTS
MetroConnect Means Millions For Eddy Pump
Sunday, November 24, 2019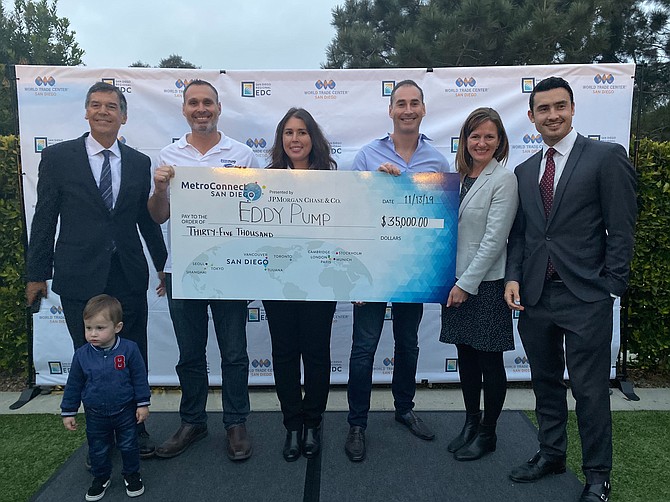 Four finalists competed on Nov. 13 for thousands of dollars to help them expand internationally. Bitchin' Sauce, EDDY Pump, LRAD Corp. (now Genasys Inc.) and Scientist.com competed for $35,000 in front a 200-person audience at the annual MetroConnect competition, hosted by the World Trade Center San Diego.
This year, the prize went to EDDY Pump Corp., a San Diego-based company that manufactures pump and dredge equipment for the U.S. military, mining, wastewater, and marine construction companies.
S.D. Defense Co.
"EDDY Pump Corp. is a quintessential example of a San Diego defense company taking their products global," World Trade Center Executive Director Nikia Clarke said in a news release. "The results from this year's cohort are impressive. From opening new offices in the Japan to inking multimillion dollar deals throughout Latin America, the participating MetroConnect companies are collectively strengthening the San Diego region's economy."
Judges for the competition included members of the City of San Diego's Economic Development Department, Qualcomm Ventures, and CureMatch, last year's MetroConnect winner.
Leading up to the competition, 20 companies participated in MetroConnect's export assistance program, which was developed five years ago to help small and medium businesses sell overseas. The year-long program included a $10,000 grant, one-on-one consulting with the World Trade Center San Diego's staff, and discounts on international travel from certain airlines. JPMorgan Chase & Co. supported the program with a grant.
Game Changer
EDDY Pump CEO Ben Weinrib said the program had been a "game-changer," helping his company increase its international exports by $5 million while expanding into five new countries.
"In the years that follow, we are looking to close a multimillion dollar per year contract with some of the largest companies in Canada as well as selling our technology to friendly foreign militaries," he said.
$69.6M In Increased Sales
According to MetroConnect, companies in last year's cohort collectively increased export sales by $69.6 million, opened 10 new facilities overseas and hired more than 100 people in San Diego.
Applications for next year's program are currently open for small- or medium-sized companies that are already exporting or are looking to begin selling overseas.