AG: INDUSTRY HAD $41 MILLION IN GROSS SALES FOR 2018
County Wineries Bring $58.6 Million Economic Impact
Sunday, November 24, 2019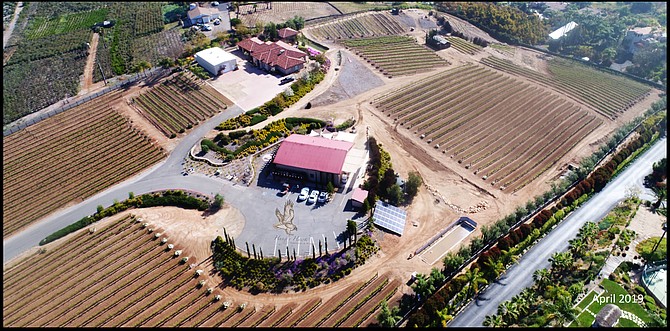 The San Diego County Vintners Association has released its "2019 San Diego County Economic Impact of Wineries" report, and it shows that the industry generated about $41 million in gross sales in 2018 and contributed an estimated $58.6 million in economic impact to the local economy.
Researched and written by Vince Vasquez, an independent economic analyst and executive director of the Policycraft Institute, an economic think tank based in Carlsbad, the 17-page report said there are now 142 operating or under construction wineries in the county; the industry accounts for 611 jobs; and it harvested a record-breaking 3,284 tons of wine grapes with a production value of $4.6 million.
For comparison, in 2017, there were 155 licensed wineries operating in San Diego County and local wineries generated $50 million in economic impact, according to the San Diego County Vintners' 2018 economic impact report.
The report also says there was a 9.7% increase in San Diego County wine industry jobs in 2018.
Record Growth
"The San Diego County wine industry has experience record growth over the past few years," said Ed Embly, owner of Hungry Hawk Vineyards in Escondido and president of the San Diego County Vintners Association. "This report validates that the hard work our winemakers are doing is making a significant impact on the county's economy and our community."
Elsewhere in the report, the data reveal that the increase in the number of active winegrower licenses and new wineries in San Diego County is due to existing wineries expanding by opening new satellite locations in the county. There are currently 181 winegrower licenses, or the Alcohol Beverage Control permit required to operate a vineyard/winery, it states.
Millennials Buying Wine
Additionally, the report says that millennials accounted for 20% to 30% of wine sales in 2018 and that there was a 9.7% increase in San Diego-based wine industry jobs the same year.
Embly credits the growth of the local wine industry to a number of factors.
"I feel that the local wine industry has very cool roots, and because of this, our customer base has continued to grow and flourish," he said. "A second reason is that the County (Board) of Supervisors have supported the local wine industry with zoning regulations that make entry into the winery business possible without excessive requirements."
In addition, Embly said the local population has generally been willing to try new things which helps other beverage industries, like mead and kombucha, expand without it being a detriment to the wine industry. In an August interview with the San Diego Business Journal, Embly suggested a few methods for helping local wineries to continue to grow their business, including starting wine clubs and becoming members of local organizations, like the Vintners Association. He said the group is constantly putting out information on its members throughout Southern California, placing brochures at airports and various visitor centers. He said there is also a website, sandiegowineries.org, which provides information to those searching for suggestions on the winery options in town and is continually updated. Lastly, he encourages strong social media presence as well as advertising through smaller, localized organizations in the winery's area.
Quality Is Paying Off
As for the future of the local wine industry, Embly said he has a very positive outlook.
"The industry continues to grow and our winemakers are being noticed because of the many competitive awards that they are receiving for the quality of wine," he said. "The increasing quality keeps our customers returning to the local tasting rooms and also venturing out to find all the hidden gems that can be found throughout the county."
Heather Hudson, founder of San Diego-baesd REVOLT Wine Co., agrees with Embly.
"Despite other beverages coming into the market wine will always be a staple on any beverage menu," she said.
"Wine has a long, rich tradition and is one of the oldest alcoholic beverages. San Diego is a city known for craft beer but more than that, known for consumers who are eager for innovation and to try something new. That's why, in my opinion, San Diego is the perfect place for growth with innovative wine brands, like REVOLT Wine Co., who offer alternative packaging with a focus on experiential marketing. History gets you on the radar but it's innovation that leads growth!"