SDBJ INSIDER: For 65 Years, Co. Delivers
Wednesday, November 20, 2019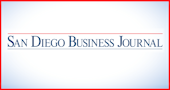 Happy birthday wishes to Jerome's Furniture which was celebrating its 65th last weekend.
According to Jerome's, "The company started with one downtown San Diego location and now encompasses 13 showrooms, nine Dream Shops, a clearance outlet and online showroom, all serving San Bernardino, Riverside, Los Angeles, Orange and San Diego counties.
And let's not forget the catchy one-word jingle: "Jerome's"
The company was founded by Jim Navarra and Esther Navarra in 1954. Jim Navarra is executive vice president of Jerome's Furniture; Brian Woods is the CEO.
...
Speaking of mattresses, Global HealthTech company Neurovalens, with dual-headquarters in Belfast, Northern Ireland, and at the University of California San Diego's The Center for Brain and Cognition, introduced its Modius SLEEP device.
According to Neurovalens, "Unlike other sleep headsets that are limited to passively reading brain-wave activity, Modius SLEEP actively stimulates the key sleep neurons in the brain, reducing time it takes to fall asleep and keeping you asleep longer. The Modius SLEEP headset is worn for 30 minutes before bed with no need to wear in bed. It works by sending a safe electrical pulse into the vestibular nerve that influences the areas of the hypothalamus and brain stem that controls the user's circadian rhythm and sleep patterns."
The device is available for $249 during its Indiegogo campaign and is expected to retail for $499 afterward, the company said.
Jason McKeown is CEO of Neurovalens.
...
Jensen Meat, an Otay Mesa-based ground-beef processor, announced an environments initiative of installing solar-powered cells and an electric vehicle (EV) charging station at its plant to offset energy use.
The initiative's goal is to decrease waste and reduce the company's energy footprint, the company said. n