BANKING: CEO MULLS FOREIGN EXCHANGE SERVICES, MORE CRYPTO-CURRENCY OPTIONS
After IPO, Silvergate Considers Its Next Moves
Tuesday, November 19, 2019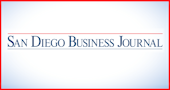 Silvergate Capital, a little La Jolla bank that has built a big reputation working with digital currency companies, made its public debut on Nov. 7. Silvergate CEO Alan Lane and fellow executives rang the opening bell for the New York Stock Exchange, where their stock is listed as "SI."
The company made its debut selling 3.33 million shares listed at $12 per share. So far, Silvergate's stock has performed well, with the price rising to $15.35 by market close Nov. 14.
Providing a Payout
Lane said going public was a key part of the company's strategy, both to give it more efficient access to growth capital and providing a payout to some of its longtime shareholders. The majority of the shares in the offering, more than 2.5 million, were offered by selling shareholders. The remaining 824,605 shares were offered by Silvergate. The company closed its IPO on Nov. 12.
At the time, Lane said, Silvergate didn't have a large need to raise capital. The company had just raised $100 million in capital at the end of 2017, when investors said they would prefer to invest in the stock of a publicly traded bank.
"It gave us an opportunity to provide liquidity for existing shareholders," Lane said. "We felt that it would be better for Silvergate to be a publicly owned company. Immediately after raising the money and the private placement, we started contemplating the IPO process, and talking to different advisors. It ultimately culminated in the listing on the NYSE."
The Delays
Silvergate initially filed its IPO paperwork last fall. At the time, the company expected to raise about $50 million, a little more than its initial listing price. Lane was ready to go public then, but faced a sluggish stock market in late 2018. After the New Year, the government shutdown further postponed Silvergate's plans.
"There's just been a lot of market turmoil over the last year that has caused us to delay the launch of the IPO. As we were getting closer to the end of the year and contemplating next year being an election year … we decided we're ready," Lane said. "We had been preparing for the last year, and the markets seemed to be receptive to IPOs right now. We decided we should just go ahead and do it."

Intro to Crypto
So far, Silvergate's focus on digital currencies has been a boon for the fast-growing bank.
The company had 756 digital currency customers as of Sept. 30, according its prospectus, bringing in $1.55 billion in noninterest-bearing deposits. Its customers include major cryptocurrency exchanges Coinbase and Bitstamp, and investors Blocktower and Polychain Capital. Lane said by dollar amount, Silvergate's customers are split 50-50 between cryptocurrency exchanges and institutional investors.
Silvergate didn't always work with crypto clients, though. It was operating as a small commercial bank, when Lane first learned of bitcoin in 2013.
"I bought some. I wanted to understand how it worked," he said.
Lane noticed startups were raising venture capital to provide infrastructure for this emerging bitcoin industry. But they were struggling to find banks where they could take their business.
At the time, Silvergate had weathered the financial crisis better than most of its brethren. The company found itself growing rapidly, but struggled to build its deposits at a pace that could keep up with its loan growth. Lane had an idea.
"I though, some of these companies are raising money and looking for a bank to put it in. We need deposits. Maybe we could solve their problems and our own," Lane said.
He worked with Chief Operating Officer Kathleen Fraher to dig through the regulations and work with emerging crypto companies in a compliant manner. Lane said Silvergate's exchange clients are considered money transmitters, and follow that regulatory framework. Silvergate is a California state-chartered bank, a member of the Federal Reserve, and its deposits are insured by the Federal Deposit Insurance Corp. Lane said the company also works with local regulators, such as the New York State Department of Financial Services, which licenses many of Silvergate's East Coast customers.
After building this regulatory foundation, Silvergate was well-positioned when cryptocurrencies had a historic bull run in 2017. The company doubled in size that year.
Future Plans
Now, Silvergate differentiates itself from its few competitors with its Silvergate Exchange Network, which allows customers to transfer money to each other on a 24/7 basis (in U.S. dollars, not bitcoin). Lane said the idea came up after companies were sharing their frustrations with having to send wire transfers to do business with each other.
In the future, Lane is looking to add foreign exchange capabilities in 2020. He also plans to add a credit feature that would allow institutional investors to borrow against their bitcoin holdings. Part of the challenge with that is developing features that can monitor if the value of a currency changed over the weekend or overnight.
"We're pretty excited about the product roadmap," Lane said. "We're just continuing to solve problems for our customers and create value for them."
Most of all, Lane is looking forward to getting back to work after the IPO.
"Going public is a resource-intensive process," he said. "It's going to be great going back to just building the business."