DINING: FOOD HALL'S VARIETY MAY BE BIG DRAW IN SORRENTO VALLEY
High-Tech Area Gets Innovative Restaurant Concept
Tuesday, November 19, 2019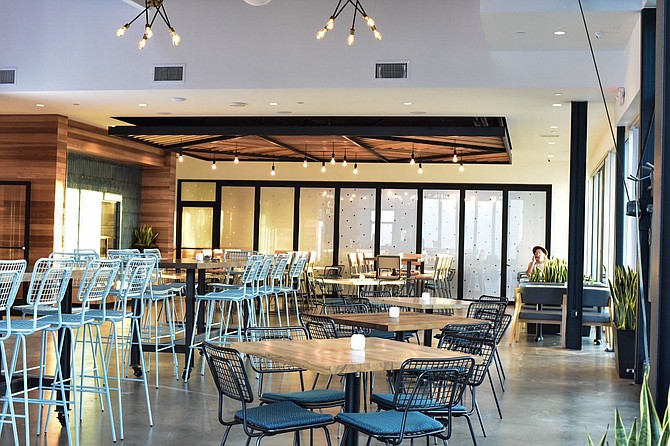 Whisknladle Hospitality, the San Diego-based restaurant group behind La Jolla's Whisknladle comfort food eatery, among other food and beverage locations around town, has opened its latest culinary effort Park Commons.
Located in Sorrento Valley's The Park work campus, Park Commons is the team's first food hall and event space. With 25 full-time employees, it officially opened its doors on Nov. 11. At roughly 10,000 square feet of indoor and outdoor space and with the capacity to hold approximately 200 guests, Park Commons will feature five individual chef-driven food options. This includes Best Dressed Soup & Salads, El Parque Cocina Mexicana, DR. J's Sandwiches & Such, Allspice Mediterranean Cuisine and Fricken Burgers.
Additionally, Park Commons will also house a full-service bar that will serve craft cocktails, wine and craft beer by local Gravity Heights, the latter also a Whisknladle Hospitality property. A craft coffee shop that will sell Dark Horse Roasters coffee will be among the lineup, as well. The food hall's annual revenue is projected to be $3.5 million, according to Arturo Kassel, managing partner.
Industry Changes
Park Commons is "a collaboration from the entire (Whisknladle Hospitality) team and an effort to adapt to the changing hospitality industry by reducing the amount of service while maintaining the delicious food and genuine hospitality (Whisknladle Hospitality) is known for," he said, adding that the project took over 2.5 years to complete and cost roughly $2.75 million. "It's a hybrid by combining the cuisine variety of a traditional food hall with the M.O. of operating a 'singular' restaurant."
Kassel said the group chose Sorrento Valley, a.k.a. "Silicon Valley South," because, with a population of approximately 130,000, according to the San Diego Association of Governments' population report, "there was a need for more dining variety and options." The Park itself is home to technology businesses and startups, including Qualcomm and Sony Electronics. Kassel also shared he is excited that Alexandria Real Estate Equities, headquartered in Pasadena, has recently taken an interest in operating The Park.
Whisknladle
Whisknladle Hospitality got started in 2006, after a chance meeting between Kassel and chef Ryan Johnston, his business partner. In 2008, the two launched the Whisknladle restaurant in La Jolla and followed with the opening of three PrepKitchen restaurants (which were sold in 2017), Catania Italian cuisine, Milagro Winery in Ramona and Gravity Heights brewery and restaurant.
Park Commons joins a handful of other food halls throughout the county. In 2016, Liberty Public Market in Point Loma's Liberty Station, opened. The 25,000 square foot venue hosts over 30 artisan and culinary concepts. Little Italy Food Hall opened summer 2018 with six Italian food-focused stations and a full bar. Carlsbad's Windmill Food Hall opened a few weeks back and at 12,000 square feet, the dining and entertainment space has 14 food vendors. Then there's Pan y Sal, slated to open in a future date at Barrio Logan's 40,000 square foot Bread and Salt art space and exhibit center.
Formerly known as the San Diego Tech Center, The Park has 11 buildings totaling 655,000 square feet with a 7-acre park. n