TRAVEL: GROWING SUPPLY, STRONG DOLLAR MAY TAKE TOLL
Is San Diego Tourism Hitting Peak Hotel?
Monday, November 18, 2019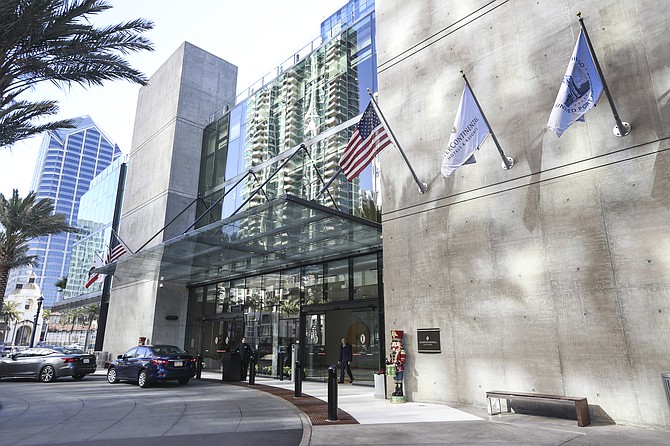 Ask the local hotel industry experts, and they're happy to tell you.
San Diego's hospitality sector has enjoyed an unprecedented period of prosperity over the past decade.
They can boast about the high occupancy rates and the high price they can charge for a room.
However, those same experts are starting to worry when good news will turn sour.
"The hotel industry has been through nine years of record growth," said Joe Terzi, CEO of the San Diego Tourism Authority, which is spending close to $30 million each year on various marketing activities to lure travelers to the region.
84% Occupancy Rates In Peak Periods
Occupancy rates for Central San Diego, for example, have hit record or near record levels, running as high as 84 percent in peak periods.
"But we're now where things are somewhat concerning because of the national political situation and several other issues, such as the strong dollar," said Joe Terzi, president and CEO of San Diego Tourism Authority. "We think the next several years are going to be challenging."
He said cracks already began appearing in the first quarter of 2019 when travel spending was down 0.04 percent compared with the first quarter a year ago.
Alan Reay, president of the Irvine-based hotel broker Atlas Hospitality Group, said the hoteliers countywide have enjoyed average daily room rates as high as $160 a night, touching the prices reached just before the Great Recession in 2008-2009.
He said the hotel business here has been so strong that developers want to add even more rooms.
Under Construction
"We've got … a record number of rooms under construction," he said. "It's something we've never seen before, a 10-year bull run in the hotel industry."
By year's end 2019, as many as 12 new hotels representing more than 1,800 rooms will be available in the county, according to the Tourism Authority.
And an additional 24 hotels could come online in 2020 and 2021, including two potential 550-room hotels being considered on the drawing board for Doug Manchester's downtown Pacific Gateway Complex at the foot of Broadway.
Terzi said it's unlikely all projects would proceed if the economy stalls or slows.
He's concerned — along with some developers — about overbuilding, "especially if we see a slowdown."
"Some of those projects may not go ahead," Terzi warned.
A Top Travel Destination
He said local hotels should book more than 18 million room stays this year. Four million would come from convention travelers while 13 million would come from leisure travelers, with 1 million classified under the heading of miscellaneous stays.
The San Diego region will host 36 million visitors this year. The region ranks as one of the top five U.S. travel destinations.
But big numbers don't tell the whole story.
The industry is tourist challenged when it comes to attracting international travelers and luring business travelers not connected to such gatherings as conventions and trade shows.
International Arrivals Down
International arrivals are down this year Terzi said, in part due to the political turmoil at the national level and in part due to the strengthening of the dollar against other currencies.
"We've seen huge increases year or year, and now for the first time we've seen international arrivals go down nationwide," he said. "It's not just politics, but the strong dollar. It costs a lot more for that international traveler to come to the U.S."
San Diego's tourism economy is unusual in that leisure travelers far outnumber business and convention visitors, unlike corporate flagship cities like Boston, Chicago, New York and San Francisco. San Diego has fewer flagship companies.
The Convention Center Question
Bob Rauch, a local hotel owner, operator and industry consultant who also runs the hotelguru.com website, said whether the region can lure more group travelers hinges on whether voters approve two ballot measures on March 3 that would increase by one-third the size of the 2.6 million square foot San Diego Convention Center.
Expansion would enable the San Diego Convention & Visitors Bureau to book additional conventions and trade shows in future years that officials now must turn away because they are too large, he said.
One of the two measures would boost the city's tax on hotel rooms to 15.5 percent from the current 10.5 percent, which would then finance the expansion and other improvements to the city's infrastructure.
He said the two-third majority required to approve the tax increases for the expansion is daunting. "It's a steep hill to climb," but thinks it can be accomplished with the proper campaign.
Expansion aside, Rauch said he and others in his industry worry about the economy heading into 2020.
If the convention center expansion does not occur, and we have a recession, our numbers will drop precipitously," he said.
He added that a recession, especially a steep recession such as that experienced in 2008-2009, would be "disastrous."
"The low point was 62 percent (occupancy in 2009)," he said. "If we had an average recession, not like the Great Recession, we could be vulnerable to the tune of 10 points."
"It's just enough to pay the bills," he said. However, that's the worst-case scenario. He prefers to think of the best case, long-terms tends.
"Demand for hotel rooms have been increasing at 2 percent per year over the past 30 years, so I don't see any reason why that cannot continue for another 30 years," he said.
This is especially true when factoring in underdeveloped quadrants of the county.
South County Opportunity
"There is room for more hotel growth in the South County," he said. "And the region has yet to tap into using Tijuana's international airport to bring even more visitors into the region."
Nonetheless, the Tourism Authority's Terzi said the expansion is key to the hospitality industry's future. "The convention center drives downtown," he said.
If voters approve expansion, the resulting larger facility would be an immediate boon to the local economy, not to mention the hotel industry, said Terzi.
"We've got to be hitting on all four cylinders in the convention and leisure marketplace, and that's why the convention center expansion is so important," said Terzi. "San Diego would be able to capture a larger share of the convention business that now goes to other cities on the West Coast."
International Flights
The other challenge of luring more international visitors appears to be a bit more complicated, explained Terzi.
Terzi said the struggle to lure more foreign tourists is why it's so important to land additional nonstop services from foreign air carriers.
"We've spent hundreds of thousands of dollars chasing and promoting these services, he said.
Those airlines that decided to put San Diego on the arrivals and departures schedule are glad they did, he said.
"The carriers we now have that offer international service to San Diego — British Airways, Lufthansa and Japan Airlines — have been very successful," he said.