PHARMA: DRUG BRINGS IN $82M IN Q3 SALES; NET INCOME IS $18M
Ionis Bests Expectations With $168M in Revenue
Sunday, November 17, 2019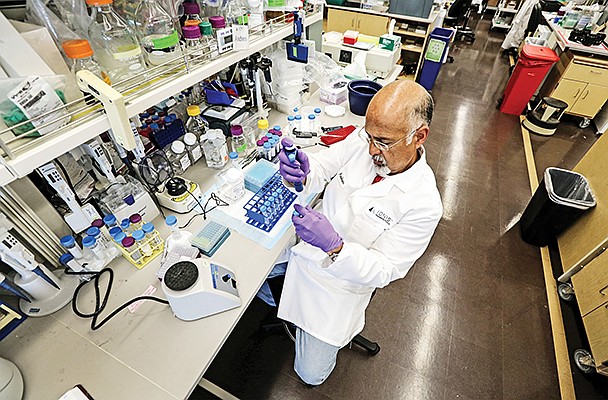 A blockbuster drug for a debilitating muscle disease from Ionis Pharmaceuticals recorded stronger than expected sales in quarterly results amid a competitor hitting the market.
Sales of Ionis' spinraza were $82 million in third quarter results posted Nov. 6, beating analyst expectations of $75 million. Spinraza was the first treatment of its kind for spinal muscular atrophy, a disease that attacks nerve cells in the spinal cord, making breathing, walking and head control difficult.
$2.1M Price Tag
But spinraza got competition in May with the approval of zolgensma, a one-dose treatment with a record-breaking sticker price of $2.1 million, or annualized cost of $425,000 per year for five years.
Spinraza costs $750,000 for the first year of treatment, followed by $375,000 in subsequent years.
Zolgensma, a Novartis drug, recorded sales of $160 million in third quarter results two weeks ago, also besting analyst forecasts.
Boding well for Ionis for now, analyst Joshua Schimmer with Evercore ISI said spinraza royalties continue to grow despite zolgensma's launch. Ionis royalties for the drug, which is sold by commercial partner Biogen, were 17% higher than the same period a year ago.
But the market will get even more competitive with a third drug — risdiplam from Roche — also poised for approval by next year.
"Zolgensma's threat is top of mind," Schimmer said. "Risdiplam is also not far behind."
Beating the Expectations
Spinraza generated nearly half of Ionis' $168 million in third quarter revenue, a 16% year-over-year increase, beating analyst expectations of $150 million in revenue.
A portion of second quarter sales — $12 million — stemmed from two commercial drugs, including tegsedi for a debilitating rare genetic disease. Remaining revenue came from licensing payments.
Ionis recorded net income of $18 million, after posting a $20 million loss in the same period of the previous year.
The company said it expects $1 billion in revenue this year, in part due to a $250 million upfront payment from Pfizer that will be booked in the fourth quarter. Pfizer in October licensed a potential drug for certain cardiovascular and metabolic diseases.
"Our strong financial position is driven by growth in our commercial revenues primarily from Spinraza's continued blockbuster performance and substantial R&D revenues from our numerous partnerships, said Elizabeth Hougen, chief financial officer of Ionis.
Ionis hasn't only had to grapple with competition. In September the company announced the departures of three top executives at Akcea Therapeutics, an affiliate that Ionis spun out to commercialize some of its drugs. Ionis said at the time the transition "is designed to strengthen the company's opportunity to advance additional promising therapies in its pipeline and build on its global presence."