OCEANOGRAPHERS TEAM UP TO EXAMINE TOXIC ALGAE BLOOMS
Grants Give Researchers Tools To Tackle Problems
Wednesday, November 13, 2019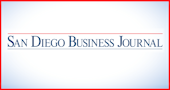 Toxic algae blooms. Injuries from nerve damage. Brain disorders.
These are problems San Diego researchers hope to better understand — and potentially even tackle — through recent grant awards.
Scripps Institution of Oceanography on Oct. 28 announced a $4.9 million grant from the National Oceanic and Atmospheric Administration to uncover why algae blooms in the ocean can be deadly for some species.
Setting up the grant, Scripps Institution of Oceanography researchers in published findings last year pinpointed the genetic basis of an acid that plays a major role in toxic algae blooms.
When consumed by sea lions and other large mammals, the acid can trigger memory loss, seizures and even death. Scripps will examine why certain microalgae produce the acid.
To find out, genomics experts, oceanographers and engineers from Scripps teamed up with the Monterey Bay Aquarium Research Institute and the Southern California Coastal Water Research Project. The project will span coastal waters from Monterey Bay to Santa Barbara to Del Mar, deploying a range of technologies, including underwater robots.
"It's a challenge to track algal blooms as they develop since satellite imagery is not instantly available and doesn't tell us what is happening below the ocean surface," said Clarissa Anderson, the executive director of the Southern California coastal ocean observing system at Scripps, in a news release.
Ultimately, the research could help predict when algae blooms will turn toxic — of interest to ocean stewards across the world.
A particularly nasty toxic bloom in Florida last year killed marine life, hurting the fishing and tourism industries.
At Salk
Shifting to the Salk Institute for Biological Studies, a team of scientists there were awarded $14.3 million over five years to parse how neurological disease and spinal injuries hamper arm, wrist and hand control.
Led by professor Martyn Goulding, the researchers' work could spark new therapies for patients with nerve damage.
They'll put together a high-resolution database showing the ways mice movement effect neuron communication.

"Specifically, this program will address the circuit basis of forelimb movements such as reaching and grasping — critical functions within our daily lives," said Karen David, program director at the National Institute of Neurological Disorders and Stroke.
The funding — courtesy of the National Institutes of Health, or NIH — was announced Oct. 29.
Days before, the NIH awarded $12.9 million in funding to Salk scientists Nicola Allen, Eiman Azim, Margarita Behrens and Joseph Ecker.
They'll contribute to the Brain Initiative, which looks to peer into how the brain works — and find ways to treat, prevent and cure neurological disorders.
The Salk Institute, which has previously taken part in the initiative, didn't say how exactly it would contribute but rather pointed to larger goals.

"The research these generous awards are funding may provide the stepping stones needed to one day understand and potentially correct the many dysfunctions of the brain, including mental illness and Alzheimer's disease," said Salk president and professor Rusty Gage.