FINANCE: EASTRIDGE ADOPTS PLAN TO SHOW CONFIDENCE IN STAFF
Employee Ownership Seen As Way to Preserve Co. Culture
Wednesday, November 13, 2019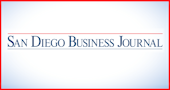 Eastridge Workforce Solutions, a San Diego-based company that offers recruiting, payroll and other services, began offering its employees stock ownership. The company established its employee stock ownership plan (ESOP) in January.
Eastridge CEO Adam Svet, and President of Technology and Management Jason Svet came up with the idea after stepping up to lead the company in 2017. Their late father, Robert Svet, founded Eastridge Workforce Solutions in 1971.
Preserving the Culture
"When we met as a family to discuss the path forward, we had one important question in mind: "What would Dad have wanted?" Eastridge CEO Adam Svet said in a news release. "We knew the ESOP would be a fundamental way to preserve the culture we have all worked to create at Eastridge Workforce Solutions. This is something he would have been proud of."
Adam Svet added that the ESOP plan is a way of showing employees how much leadership believes in them and the company's future. Eastridge's plan will apply to both internal and contract employees. The company has a total of 300 internal employees as its 18 offices, including its Mission Valley headquarters.
The stock will vest over a three-year period, meaning that a full-time employee that had worked for one year as of Jan. 1, 2018 could expect to be fully vested by Jan. 1, 2022.
Employee Owned
According to the National Center for Employee Ownership, roughly 6,600 companies across the U.S. have opted to become employee owned. The group claims that ESOP companies produce three times the retirement assets compared to employees in similar non-ESOP companies and see a 25% higher job growth rate.