CO. ATTRACTED TO 'UP-AND-COMING' EAST VILLAGE LOCATION
Spaces Coworking Finds a Good Fit, Environment In Block D
Tuesday, November 12, 2019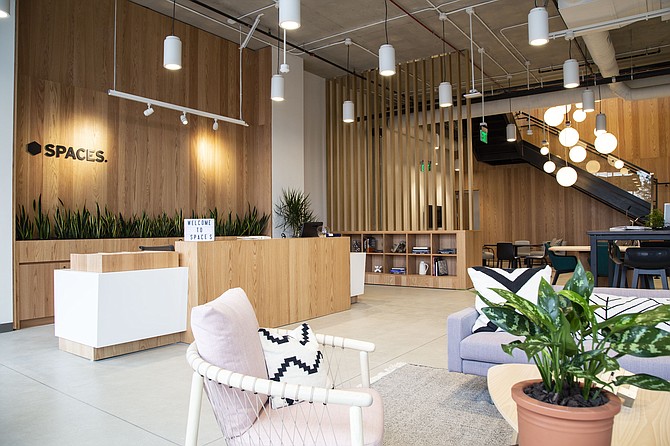 The coworking giant Spaces has opened its second San Diego location in the innovative Block D office building in downtown's East Village with a third San Diego coworking location planned for Little Italy.
With a soft opening in September and a formal opening in November, Spaces was among the first tenants to move into Block D, which recently gained LEED Platinum certification for its sustainable design and was awarded an orchid by the San Diego Architectural Foundation as a model for others to emulate.
Spaces is owned by the multinational corporation IWG pl, based in Luxembourg.
The corporation offers work space under several brands, including Regus, Signature by Regus, HQ and No. 18.
Regus has more coworking space than anyone else in San Diego County — 288,315 square feet in June — about 19.1 percent of the total, according to the commercial real estate brokerage Cushman & Wakefield.
Bloc D is the first new office building to recently open in downtown
"We're there a bit early but we're very proud of being a part of the project," said Jim Doorn, executive vice president of IWG for the western U.S. "It's one of the most sustainable projects in all the U.S."
Spaces has leased 30,000 square feet over four floors of the 60,000 square-foot Block D building at 845 15th St.
The company also has leased about 40,000 square feet of space in the 123,062 square-foot former U.S. Bank Building at 1420 Kettner Blvd.
That location is expected to be open in March.
Spaces also leases about 30,000 square feet of space in UTC's La Jolla Center at 4660 La Jolla Village Drive, Doorn said.
The company was drawn to Block D because of the building's ground-breaking design and because of the location in the heart of East Village.
"We believe it's an up-and-coming part of town and you can see that in all the condos and retail that's coming," Doorn said. "Over the next year, we think it will be a thriving area of the city."
Since the soft opening in September, Spaces is about 25 percent occupied.
"We're filling up at a healthy pace," Dorn said.
The Block D location is about 30 percent open space with the remainder dedicated office space.
The open space has "everything from booths to couches to chairs to large working tables," Doorn said. "You also have a private dedicated desk area where you can actually reserve an individual desk."
There's also a café with a barista on duty to serve food and beverages.
As part of Block D's design, the interior of the building has large garage doors that open out onto patios, which Spaces has furnished as outdoor work areas.
"It's meant to be a bit of a mixed use space," Doorn said, which companies can rent for receptions or other special events.
Doorn said he expects Spaces to draw a variety of users, from individuals who might otherwise work out of their homes to entrepreneurs and startup companies looking for short-term leases to bigger companies who want the flexibility that coworking offers.
Individuals and companies can rent space for as much or as little time as they want.
"You can walk in a rent or take advantage of an office or meeting or meeting room," Doorn said.