CARB GOAL IS TO HAVE ZEB FLEETS REPLACE POLLUTING VEHICLES BY 2040
Pilot Program Puts Zero Emission Buses on Sustainability Route
Tuesday, November 12, 2019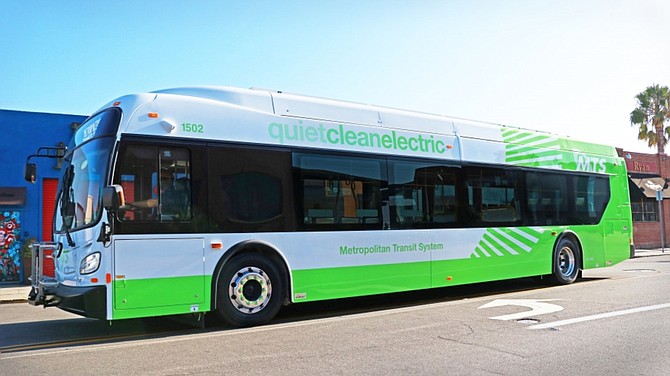 On Oct. 19, 2017, the San Diego Metropolitan Transit System (MTS) Board of Directors unanimously approved an 18-month Zero Emissions Bus (ZEB) pilot program. On Nov. 4, testing on multiple routes around San Diego began, with the buses scheduled to go into passenger service later in the month.
"The transition to zero-emission buses has been contemplated since the year 2000," said Paul Jablonski, MTS' CEO. "In the past five years, as zero-emission technology became commercially available, MTS and other transit agencies helped craft new CARB (California Air Resources Board) regulations that set a statewide goal for public transit agencies to gradually transition to 100 percent zero-emission bus fleets by 2040… This zero-emissions bus pilot program is the latest example of how MTS is protecting the environment and reducing our regional greenhouse gas emissions through the use of clean technology."
Analyzing Its Performance
MTS' ZEB pilot project will "help provide an analysis of how ZEB technologies will work for MTS' transit system", said Jablonski, and "assist in determining the longer-term impact on MTS". Jablonski also said the program includes bus and charger procurement, operation of the ZEBs in MTS service for 18 months, and detailed analysis and reporting of cost and performance, identification of infrastructure needs and development of a roadmap from pilot to full deployment of ZEBs.
"MTS is piloting this program ahead of a California Air Resources Board mandate that all transit fleets in the state gradually transition to 100% zero emissions by 2040," Jablonski said. "The pilot program will give MTS real world operational data required to make sound financial decisions to develop a roll-out plan to submit to CARB."
SDG&E Onboard
San Diego Gas & Electric is also working closely with MTS on its zero-emissions efforts.
"MTS' pilot program represents a major step forward for our region in advancing clean transportation beyond passenger vehicles to large vehicles and industrial equipment," said Estela de Llanos, vice president of clean transportation, sustainability & chief environmental officer at SDG&E. "Together we are driving toward cleaner air and a more sustainable future."
So far, MTS, San Diego's public transit provider operating 95 bus routes and three trolley lines, has deployed six battery-electric buses, said Jablonski. The routes included are 1 (Fashion Valley — La Mesa), 2 (Downtown — North Park), 4 (Lomita Village — 12th & Imperial Transit Center), 10 (University & College — Old Town Transit Center), 13 (Kaiser Hospital/Grantville Trolley — Baltimore & Lake Murray), 815 (El Cajon Transit Center — East Main & Madison), 905 (Otay Mesa Transit Center — Iris Trolley) and 936 (San Diego State University Transit Center — Spring Valley), he said. Two more buses will join the fleet in the next 12 months, said Jablonski, adding that MTS is also considering purchasing two hydrogen electric fuel cell buses in the next year.
MTS already operates 128 zero-emissions trolleys, Jablonski said. He also said for its bus fleet, MTS was among the first transit agencies to convert to CNG fuel, deploy near-zero emission engines and purchase 100% renewable biogas.
San Diego Metropolitan Transit System was founded in 1892, when entrepreneur John D. Spreckels bought a streetcar operation and launched the San Diego Electric Railway Co. Since then, public transit has taken many forms, names and operating entities, according to the MTS, which has operated the system in San Diego since 1892.
With approximately 2,500 local employees, both direct and contracted, MTS services about 86 million riders per year across 10 cities and throughout the county.