Food Hall in Sorrento Valley Opens
Tuesday, November 12, 2019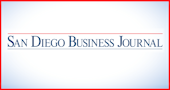 Park Commons, the newest food hall and private events space, opened Nov. 11 in Sorrento Valley.
According to a spokesperson, Park Commons features five food places within a flexible 10,000 square feet open floor plan and hopes to effectively service Sorrento Valley's 130,000 daytime population. It will serve breakfast, lunch and happy hour and will include a full bar.
Park Commons is the latest project by Whisknladle Hospitality, headquartered in La Jolla.
Travel & Hospitality reporter Mariel Concepcion can be reached at mconcepcion@sdbj.com or 858-634-4625.