After Valuation Plummet, Human Longevity Raises $30M
Monday, November 11, 2019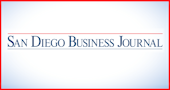 Human Longevity Inc. has raised $30 million, a year after a letter from the company's board signaled a cash crunch at the genomics outfit.

The San Diego firm said the funding would improve Health Nucleus, its testing center in La Jolla. It combines artificial intelligence, genome sequencing and other lab tests – information the company says can help users be proactive about health risks.
But commercialization difficulties have weighed on privately held Human Longevity. Its board a year ago said the company needed short-term financing in a letter to shareholders obtained by the San Diego Business Journal.

The board's request for "down round" financing prompted a $310 million company valuation, significantly lower than its early 2017 valuation of $1.6 billion, according to an article from the Wall Street Journal at the time.

Human Longevity declined to provide its latest valuation, nor did the company say whether additional funds beyond the $30 million have been raised in the last year.
It also did not provide the status of an effort to bring its Health Nucleus center to more locations through partnerships.
Sharing this plan last year was David Karow, the company's president and chief innovation officer, in an interview with the San Diego Business Journal. He said falling genomics and MRI costs would open up a middle-class market for Health Nucleus.
"Historically, we've offered a pretty high price point offering downstairs. We're not really interested in millionaire or billionaire health, frankly. We're interested in democratizing this concept of precision health," Karow said.
Existing investor Emerging Technology Partners participated in the latest round, among other undisclosed investors.
"What I can say about our company is that the recent financing allows Human Longevity to continue its mission to become a leader in whole genome genetic interpretation as part of precision and personalized healthcare," said Debbie Feinberg, the company's vice president of marketing, in an email.
In 2016, Human Longevity raised $220 million in a series B round, backed by big-name investors like Illumina and Celgene. Top executives and government officials flocked to its executive team.
Since then, Human Longevity has experienced waves of C-suite shakeups, the San Diego Business Journal detailed last year. That included the spring 2018 departure of its chief financial officer, head of regulatory affairs and co-founder and CEO J. Craig Venter.
Shortly after he left, Human Longevity accused Venter of stealing trade secrets. The company filed a federal lawsuit against the J. Craig Venter Institute, a nonprofit that Venter founded and returned to after his exit from Human Longevity.
A federal court late last year dismissed the lawsuit, stating Human Longevity failed to establish misappropriation of trade secrets.