PROPERTY: MIRATI LEADS THE 20 DEALS MADE WITH 64,108 SQUARE FEET
The Ups and Downs Of Third Quarter Life Sciences Leasing
Sunday, November 10, 2019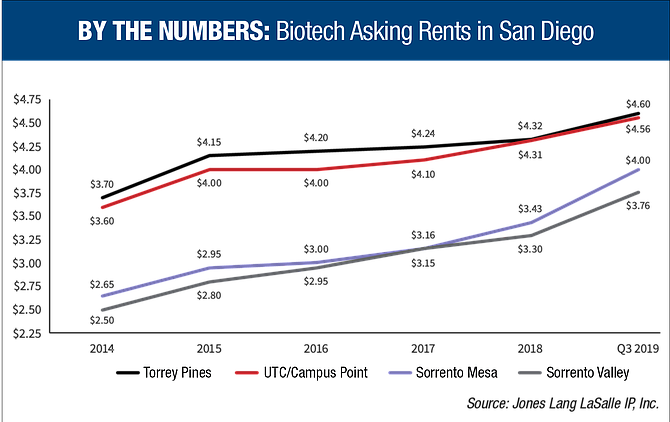 More life sciences companies took space in the third quarter, but industry leasing activity still fell compared with the same period a year ago.
That's according to a recent report from the brokerage firm JLL.
The report noted 20 life sciences leases in San Diego during the quarter, or 20% higher than the quarterly average the previous three years. Still, recent leases totaled 262,008 square feet — a 31% year-over-year decrease in activity, and 38% less than the prior quarter.
What gives? Put simply, small biotechs.
Active Smaller Firms
"Leasing activity was highlighted by smaller firms with space needs under 17,000 square feet, with these smaller requirements accounting for 75% of the total number of signed leases," stated the report.
In the largest lease of the quarter, Mirati Therapeutics Inc. signed a 64,108 square-foot lease in Torrey Pines, expanding its footprint by 250%.
Mirati is a cancer drug developer that recently posted compelling clinical trial data. The company has seen its stock more than double since year's beginning, closing at $97.25 on Nov. 4.
Other Notable Deals
• Acon Laboratories moved into a 46,110 square-foot building in Sorrento Mesa that was previously occupied by BioLegend.
• Poseida Therapeutics added 14,727 square feet in UTC.

• VelosBio moved from the incubator JLABS and signed a lease for a 10,085 square- foot spot in Sorrento Valley.
• Erasca expanded its footprint by 4,980 square feet in Torrey Pines.
Speaking of Torrey Pines, it led San Diego's four life sciences submarkets in the third quarter with 95,268 square feet leased, followed by Sorrento Valley with 69,971 square feet leased.
Torrey Pines also had the highest asking rents: $5 per square foot a month for Class A space. The average in San Diego life sciences was $4.44 for Class A space.
Tenant demand continues to be strong, the report said.
R&D Focus
"There are several local San Diego biotechs evaluating the market for space to accommodate their growth needs, with the bulk of the requirements landing in the 15,000 to 30,000 square foot size range. Additionally, the market is seeing a steady stream of companies that have their headquarters outside of San Diego look to the local marketplace to expand their R&D operations, taking advantage of the strong pool of local talent."
While leasing of life sciences buildings technically slowed, the numbers don't reflect life sciences companies moving into traditional office space. The quarter saw eight such leases totaling 255,660 square feet.

"The two notable deals include Illumina Inc., which leased 71,953 square feet at La Jolla Commons and Neurocrine Biosciences which leased 87,944 square feet in Del Mar. Neurocrine's recent expansion comes on the heels of a 44,718 square foot expansion in mid-2018 and puts the company's total footprint at 273,753 square feet," states the report.