$116.5M AWARD COVERS BASES INSIDE, OUTSIDE OF SAN DIEGO
Sodexo Receives Food Service Deal For U.S. Marines
Sunday, November 10, 2019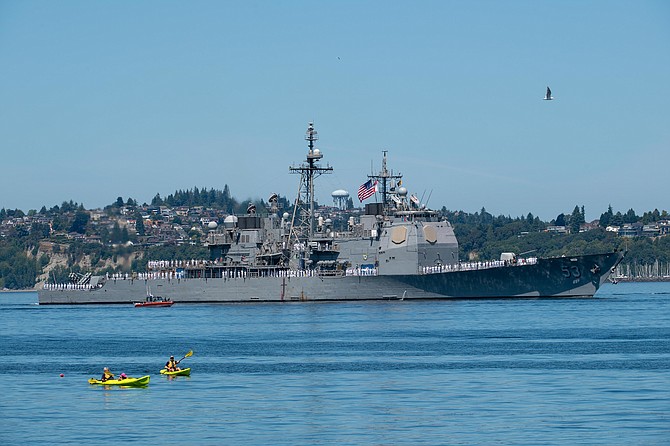 The following are selected defense contracts awarded to San Diego County companies in October and November. The U.S. Department of Defense releases a digest of contract awards daily at 5 p.m. Eastern Standard Time.
Sodexo Management Inc. of Gaithersburg, Maryland received a $116.5 million contract modification to manage and operate mess halls at the region's U.S. Marine Corps bases. The deal, announced on Nov. 6, covers Oceanside; San Diego; Twentynine Palms; Yuma, Arizona; and Bridgeport in Northern California. Local bases include Marine Corps Base Camp Pendleton, Marine Corps Air Station Miramar and Marine Corps Recruit Depot. The Marine Corps Installation Command of Arlington, Virginia awarded the deal.
Sodexo Management is a subsidiary of Sodexo Group, which is based outside Paris, France.
Cruiser Repair Job May Grow
BAE Systems San Diego Ship Repair received a $33.9 million delivery order under an existing U.S. Navy contract for shipyard work to the Ticonderoga-class cruiser USS Mobile Bay. Work will include depot-level maintenance, alterations and modifications that will update and improve the ship's military and technical capabilities. Work will be performed in San Diego and is expected to be complete by October 2020. The delivery order includes options which, if exercised, would bring the value of the deal to $38.2 million. Two companies bid on the contract. The Southwest Regional Maintenance Center of San Diego awarded the delivery order, announced on Nov. 6.
General Dynamics Gets IT Work
General Dynamics Mission Systems received a U.S. Navy contract to sustain the integrated combat management system (abbreviated ICMS) for the Navy's littoral combat ships. The system integrates the sensors and the weapons on the ship. The deal, announced on Oct. 31, also covers associated combat system elements.
The deal is initially worth $90.7 million. Roughly one-fifth of the work — valued at $17.5 million — will go to San Diego. The balance of the work will be completed in Pittsfield, Massachusetts. All work is slated to be finished by October 2024.
The Navy has options that could increase the total value of the contract to $393.4 million within the same five-year period. It was unclear how much work would flow to San Diego if the Navy exercises its options.
The Naval Sea Systems Command of Washington, D.C. awarded the contract.
The work includes development, integration, test and delivery of future combat system baseline upgrades for in-service ships; supporting ship integration, installation and checkout; developmental test/operational test; developing training and logistics products; providing field technical support for the combat system; providing hardware engineering and equipment procurement; providing life-cycle supportability engineering; and providing fleet support for fielded systems.
General Dynamics' Mission Systems unit had 44 employees in San Diego as of June.