SDBJ INSIDER: Engineering Feat
Sunday, November 10, 2019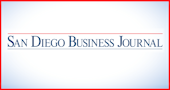 Cubic Corp. is the first corporate partner to be slated for recognition within UC San Diego's planned new engineering building project, Franklin Antonio Hall, Cubic announced. The company's philanthropic support of the University of California San Diego's Jacobs School of Engineering is part of the Cubic's continuing cooperation with local schools and institutions.
"Cubic has been an active supporter and collaborator of private-academia research with local San Diego universities since the founding of our company nearly 70 years ago," said Bradley Feldmann, chairman, and CEO of Cubic Corp.
"With recognition in Franklin Antonio Hall, Cubic is helping us to create an exciting new ecosystem built around an optimistic, human-centered vision for the digital future," said Albert Pisano, dean of the UC San Diego Jacobs School of Engineering. "At the same time, I highly value our ongoing dialogue with Cubic regarding the future of engineering education, the engineering talent needs of the region, and how we can best prepare our engineering and computer science students for a lifetime of professional success."
...
PriceSmart Inc., the San Diego-based operator of warehouse club stores in Latin America and the Caribbean, announced October merchandise sales increased 3.7% to $253.9 million compared with $244.9 million for the like period for 2018. The company said currency exchange rate fluctuations affected sales negatively by $4.8 million or 1.9% versus the same month of the previous year.
Sherry Bahrambeygui is PriceSmart's CEO.
...
San Diego-based Spa Girl Cocktails, which claims to be the "clean, better-for-you vodka beverage company", announced the signing of a distribution agreement with Southern Glazer's Wine & Spirits, initiating on the West Coast of the U.S. The brand officially launched with a market test in early 2019
The company with its ready-to-serve cocktails aims for the underserved female drinker who is concerned with quality and calories.
"The 'lightning-in-a-bottle' success of Spa Girl Cocktails proves that we have hit the right mix of core product, packaging innovation, price point, and brand messaging," said CEO Alisa Marie Beyer.