OCEANSIDE SITE SELLS FOR $2.5M
Customer Service Kept Store Open For 60 Years
Sunday, November 10, 2019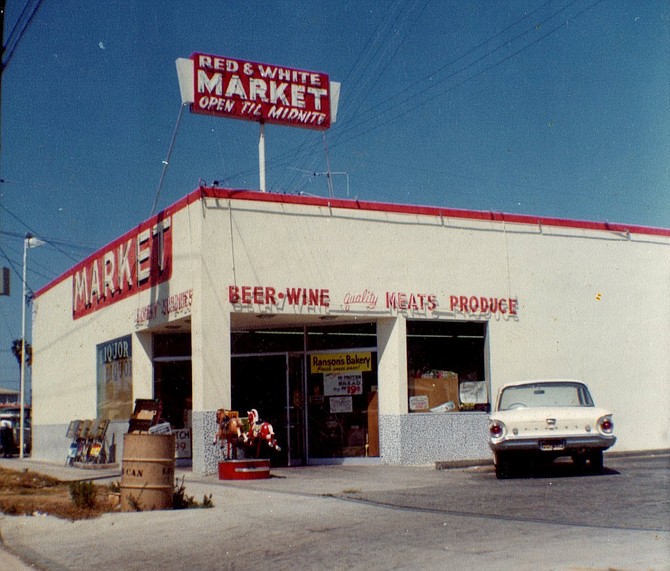 After officially closing its doors on Sept. 29, the building formerly known as Red & White Market, the iconic neighborhood market located on South Oceanside, has officially been sold.
Early November, it was announced the 5,568-square-foot building at 510 Vista Way was sold by Red & White Properties for nearly $2.5 million. Red & White Properties was represented by Amy McNamara, Joe Brady and Luke Holler of Colliers International's Urban Property Team. The buyer was not disclosed.
According to Anthony C. Spano, formerly president of Red & White Market on South Oceanside who took over the market in 1988 from his father, Mel Spano, along with brother Damian Spano, a number of reasons led to the family's decision to close the 60-year-old neighborhood staple.
Many Reasons
"There wasn't just one reason for the sale, but a handful of small events that led up to it," he said. "First is my age. I turned 65 in January. I received my first paycheck when I was 15 but certainly had been there for years (prior). In the '60s, there was no daycare. It was your grandmother. And if your parents owned a store, you went to work with them. The store was all I had ever done. I wanted to retire while still healthy."
Additionally, Spano said there wasn't any current generation family member or members willing to take over the business, mostly because they were encouraged to seek out their true passions, even if it didn't mean running the family-owned market. He also said competition and finances played a role, as well.
Capital Investment Needed
"Grocery stores, like most businesses, require periodic capital investment," he said. "The benefit to the business is the equipment is more space and energy efficient but is very expensive. Our price strategy was always to be fair to the local clientele. That made for slim margins."
Demographics and change in consumer needs also played a part, said Spano. The 18-35 year-old age group have the highest disposable income, he said, but don't spend on groceries like their parents did. They prefer to buy pre-made, ready-to-eat meals, said Spano, whether that is at home or at a restaurant, a brew pub, food trucks, or fast-casual eateries.
Red & White Market was founded in 1959 by Spano's grandfather, Joseph Spano, who was running a wholesale produce company in the early 1950s, he said, and wanted to expand to retail outlets. His first store was in downtown Carlsbad, the second on Vista Way and the third was on North Coast Highway. The last remaining Red & White Market location is at 700 N. Coast Highway, said Spano, adding that it is owned by his 88-year-old uncle, Anthony V. Spano, and run on a daily basis by his cousins, Gina Spano-Shank and Pam Spano-Deneke.
What made Red & White Market a neighborhood gem was that the customer was considered the boss, said Anthony C. Spano, and that the market mostly, if not always, hired local neighborhood people to work there. He added that Red & White Market also made sure to donate locally, like to the South Oceanside Elementary Parent-Teacher Association. As a result, it became a "safe place," he said, "and parents trusted us to keep an eye on the kids who would walk to the store in summer for treats. It's all the little things that you do naturally that you don't realize the impact until later."
Sandwiches and Good Beer
In terms of best-sellers, Red & White Market was famously known for its deli sandwiches, said Spano. They were simple, priced fairly and a good size, he said. Also, brother Damian maintained a well thought out craft beer selection, he added.
'Break-Up Talk'
It comes to little or no surprise, then, that Oceanside residents have taken the closure of the iconic market rather hard. Spano, who admitted it was tough on him as well at first, described it as a "blind-sided break up you didn't see coming, just couldn't believe it at first." He said that, after the store closed and while they were still there tidying up loose ends, neighborhood folks were still walking in, unaware the market had closed its doors and forcing Spano to have the "break-up talk" with them in person.
As for Spano, he said it's hard to say what's next for him. He can see himself pitching in at the Vista store from time to time, he said, or he may look for something else to do in the near future.