Currax Buys Nalpropion, Gains Weight-Loss Drug
Sunday, November 10, 2019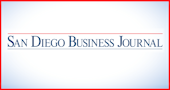 New Jersey's Currax Pharmaceuticals now holds the rights to contrave, a weight-loss drug with San Diego roots.

Orexigen Therapeutics developed contrave, but cash flow issues forced the San Diego biotech last year to sell its assets to another local company, Nalpropion Pharmaceuticals.
Nalpropion, in turn, was recently acquired by Currax, a generic drugmaker. Financial terms were not disclosed.
Procopio managed the deal, the firm said.