SDBJ INSIDER: Lifesaving Solutions
Tuesday, November 5, 2019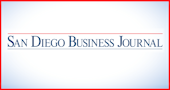 San Diego-based Inseego, a maker of telecommunications technology, said that it donated mobile hotspots to Northern California VOAD (Voluntary Organizations Active in Disaster) network providing "critical communications during the power outages and wildfires that have displaced hundreds of thousands of residents statewide."
Inseego said it is also offering 4G LTE mobile hotspots to agencies in need.
Inseego is also donating backup batteries and solar-powered portable chargers.
"Our MiFi mobile hotspots take a single cellular connection and turn it into an instant Wi-Fi network that supports up to 16 users," said Inseego Chairman and CEO Dan Mondor. "In addition to delivering 4G LTE communications, these hotspots provide exceptionally long battery life, and can even be used to boost the battery power on connected devices. … these devices can truly be a lifesaver."
The San Diego Business Journal's Leaders in Law Awards on Oct. 24 included a number of good one-liners. One of the evening's winners, labor and employment lawyer William Whelan, thanked his "very well-financed adversary" who was willing to fight a case all the way to the court of appeals, a published opinion — and fame for Whelan, resulting in the award. Whelan is partner and general counsel with Solomon Ward Seidenwurm & Smith LLP and is co-author of the firm's Employer Law Watch and Updates. See section, page 21.
...
Callaway Golf Co. based in Carlsbad announced record net sales for the third quarter of $426.2 million compared with $262.7 million in Q3 of 2018.
It had GAAP results of $31 million in net income for the quarter compared with $9.5 million in the like quarter of 2018.
Adjusted EBITDA (earnings before interest, tax, depreciation and amortization) for Q3 came in at $56.7 million.
"I am very pleased to announce yet another record quarter in revenue and strong earnings growth for our company," said Chip Brewer, president and CEO of Callaway Golf Co "Our portfolio of brands continues to deliver strong financial results while positioning us for attractive long-term prospects."
...
Union Bank announced Isai Amaya as Regional President of the San Diego Branch Banking division. Amaya will oversee a network of more than 50 branches and 300 employees in the region.