San Diego MTS Launches Zero-Emission Bus Pilot Program
Tuesday, November 5, 2019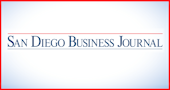 On Nov. 4, the San Diego Metropolitan Transit System launched a zero-emission bus pilot program. According to a spokesperson, MTS deployed six battery-electric buses and is currently testing on routes 1, 2, 4, 10, 13, 815, 905 and 936, with the goal is for public transit agencies to gradually transition to 100% zero-emission bus fleets by 2040.
"Our focus is on providing the highest level of service of our riders and achieving the maximum return on our investments," said Paul Jablonski, MTS's CEO. "Getting these buses on the roads will immediately improve the air quality in the communities we serve while arming us with the performance data and operational insights necessary to build an effective transition plan."
Founded in 1892, MTS is the local public transit provider for San Diego. It already operates 95 bus routes and three trolley lines, according to the spokesperson, and services approximately 86 million riders per year across 10 cities and unincorporated areas of the county.
Travel & Hospitality reporter Mariel Concepcion can be reached at mconcepcion@sdbj.com or 858-634-4625.