MANY EXPECT HOME PRICES TO CONTINUE TO GROW
Homebuyers in San Diego Paying a Big Percentage of Income On Housing
Monday, November 4, 2019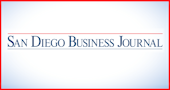 San Diego County's housing market is teetering between one of slowly rising prices to one where prices have cooled and dropped slightly based on somewhat conflicting reports from two real estate tracking agencies.
Regardless, housing prices have reached the point where San Diego is in the unenviable position of being second in the nation behind Los Angeles in how much homebuyers must borrow relative to their incomes.
This marks the second year in a row in which San Diego led nearly every other metro area surveyed by LendingTree, and that's not likely to change much looking ahead, said Tendayi Kapfidze, LendingTree chief economist.
"There's a bifurcation there where you have a certain number of people who are making a lot of money bidding up the price of homes," Kapfidze said. "The average person isn't making that much money but they're participating in the same market."
Median Mortgage $455,000
According to LendingTree, the median annual household income in San Diego is $125,000 and the median mortgage is $455,000.
At the other end of the spectrum where buyers had the smallest mortgages relative to their incomes was Pittsburgh, with a median annual household income of $76,000 and a median mortgage of $155,000.
In general, people in East Coast cities pay less of their income on housing that in West Coast cities, Kapfidze said.
"San Diego hasn't been as hot as some other West Coast cities but has been fairly hot over the last five or six years," Kapfidze said.
Market Has Cooled
Yet, according to the San Diego County Association of Realtors, the market has cooled and fewer homes are up for sale.
Single-family home prices were 2 percent lower in September compared with August, with a median price of $643,000, the association reported.
Condominium and townhome prices dropped nearly 5 percent from August to September, according to the association.
Meanwhile, the association reported that single family home sales dropped 14 percent from August to September, but were 10 percent higher than they were in September 2018.
"There may be fewer homes popping up on the market, but the fall and winter months usually mean less competition — good news for buyers," said Kevin Burke, association president.
Presenting a more optimistic outlook, the latest S&P CoreLogic Case-Shiller National Home Price Index showed that San Diego home prices are on the rise after bottoming out earlier in the year.
The CoreLogic figures mix single-family homes, townhomes and condominiums together, are adjusted for normal seasonal fluctuations and measure the price of all homes in a region as opposed to just those that are listed for sale.
"It looked like home prices would turn negative but they didn't," said Ralph McLaughlin, CoreLogic deputy chief economist.
"Home prices have been growing slower every month for the past 17 months," McLaughlin said. August was the first month the rate of price increases was higher than the month before, McLauglin said.
In August — the most recent month for which CoreLogic had figures — the company said home prices increased 3.2 percent compared with an increase of 3.1 percent in July.
Although statistics for a single month don't make a trend, "San Diego may be a leading indicator for what might happen in other markets in the West," McLaughlin said.
"In the long run, the prospects for the San Diego housing market look good, especially if you already own a home," McLaughlin said. "If you don't own a home and want to, it may not look that great. Home prices are going to continue to grow. The long term prospects in the San Diego market look very, very good."