TOURISM: IMPROVEMENTS ARE PLANNED FOR BOTH IN AND OUTSIDE THE FACILITY
Cross Border Xpress Sees 30% Increase in Passenger Traffic for Q3
Monday, November 4, 2019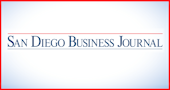 Cross Border Xpress, the 390-foot, one-of-a-kind pedestrian bridge that connects the United States to Mexico's Tijuana International Airport from a terminal in San Diego, has announced its passenger traffic count from July to September 2019 went up 30% compared with the like period last year.
"Since its conception, CBX has sought to improve the travel experience for the millions of people who travel between the U.S. and Mexico each year," said Jorge Goytortua, CEO of CBX. "These increases in passenger growth are not only a testament to the great strides we have made over the past four years but are further proof of the opportunities for positive tourism on both sides of the border."
Expansion Plans
According to a news release, in order to better accommodate the growing number of travelers crossing the bridge every day, CBX has plans to expand "key areas" within terminals. This includes reconfiguring the departures lobby to include an additional e-gate, to be completed by mid-November. CBX couldn't provide the cost of the project nor the amount of potential jobs it would bring to the San Diego market as of press time.
In April 2019, CBX also launched automated e-gates, which allow travelers to scan their CBX ticket and airline boarding pass for quick and easy entry. Additionally, according to the company, new purchase kiosks were added, as well as computer stations where passengers can fill out required paperwork digitally.
Other plans include additional restrooms and an expansion to the current U.S. Customs and Border Protection processing area, bringing the total number of booths up from four to eight. The expansion spans 80,195 square feet and is expected to be completed by November 2020, states the release.
Development Around the Terminal
Goytortua added that over the next several years, CBX has plans to continue expanding the area surrounding the facility, including the addition of hotels, restaurants and gas stations, among other services, "with hopes of adding more jobs and boosting the overall economy of the area."
Goytortua credits CBX's success to a number of factors, including access and affordability.
"Users have access to more than 35 direct flights to various destinations in Mexico and direct flights for many of those destinations, like Mexico City, are not currently served by other Southern California airports," he said. "Fares at TIJ are also typically cheaper, with some destinations at half price compared with SAN or LAX," Goytortua said. "The bridge is one of the only of its kind in the world — it's changed the way that Southern Californians travel between the U.S. and Mexico by offering a quicker, safer and more efficient way to fly out of TIJ."
California Welcome Center
Earlier this month, CBX partnered with Visit California to launch a California Welcome Center, located in the arrivals terminal. One of 18 Welcome Centers across the state, it offers visitors from Mexico bilingual assistants, translated media, California guides and other digital interactions.
Opened in 2015, CBX is the first-ever U.S. facility to connect directly into a foreign airport. It services an average of 8,000 ticketed airline passengers daily.