West Bernardo Corporate Center Sold
Sunday, November 3, 2019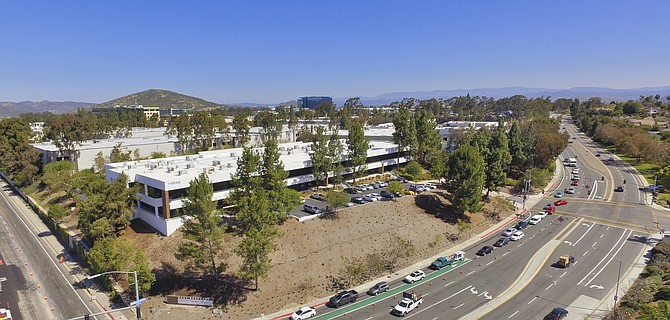 West Bernardo Corporate Center has been sold for an undisclosed price to SENTRE, a commercial real estate investment firm based in San Diego.
The seller was The Blackstone Group, according to CoStar, a real estate research firm.
Built in 1985, tenants in the 60,313 square-foot office building at 15822 Bernardo Center Drive include Microchip, Garden Fresh Restaurants and Interior Logic Group.
"The Rancho Bernardo submarket has long represented the core for corporate users in the San Diego region," said Doug Arthur, president and CEO of SENTRE.
"We believe West Bernardo to be among the most unique assets in the market, unrivaled in ceiling heights and open, creative feel for users of all types, and we are eager to further invest in creating a one-of-a-kind office environment," Arthur said.
SENTRE plans to make a number of improvements to the property to increase its curb appeal, including rebranding the center, improving signage for tenants, installing drought-tolerant landscaping, creating private outdoor patio spaces for each tenant and adding an art mural and directional signs at primary entrances.
Louay Alsadek and Hunter Rowe of CBRE represented the seller. SENTRE represented itself.
Jay Alexander and Tim Olson of JLL were the leasing experts on the sale and will continue to oversee leasing of the property.
Scott Peterson, Bill Chiles, Morgan Fraser and Brian Cruz of CBRE organized financing for the transaction.
"West Bernardo Corporate Center is well-positioned to appeal to San Diego's diverse tenant base and thriving technological companies that require both executive offices and R&D space," Alsadek said. "Unlike other community office buildings, this property features collaborative designs throughout and outdoor common spaces that promote interactions and quality of work life."
Real estate reporter Ray Huard may be reached at rhuard@sdbj.com or 858-277-8904.