Qpex Biopharma and Brii Biosciences Partner to Take on Superbugs
Sunday, November 3, 2019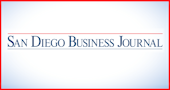 San Diego's Qpex Biopharma has licensed three of its programs for drug-resistant bacterial infections to a firm with a mission of bringing breakthrough treatments to China.

Brii Biosciences will partner on development, with the drug candidates slated to enter phase 1 clinical testing next year. If approved, Brii would handle commercialization and manufacturing in China – as well as in Taiwan, Hong Kong and Macau.
Qpex, which emerged last year with a $33 million Series A round and a contract worth up to $132 million, still still holds rights to its programs elsewhere.

The biotech will receive an upfront payment from Brii for an undisclosed amount. More funds could flow to Qpex, if it makes good on development, regulatory and commercial goals. It would get tiered royalties on drug sales, too.
Brii – with offices in the U.S. and China – will share in development costs. It launched last year with $260 million in venture funding.
"Brii Bio's depth of understanding in this field and their unique, cross-regional operating model make them the ideal collaborator in bringing our treatments to this important region where endemic drug-resistance problems can be well addressed by our portfolio," said in a statement Michael Dudley, CEO of Qpex Biopharma.
Zhi Hong, co-founder and CEO of Brii Bio, said in a news release:
"The higher level of antibiotic resistance is a very serious problem in China and the spread of superbugs crossing borders is a recognized global threat."
He added Qpex's portfolio complements Brii's infectious disease strategy in China.
San Diego has a crop of companies developing antibiotics, countering the trend of big pharma leaving the space.