San Diego Restaurants Make Michelin Affordable Restaurants List
Thursday, May 30, 2019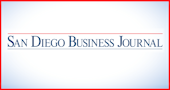 Michelin has announced the Bib Gourmand eateries list, which features 151 affordable restaurants throughout California, including eight locations in San Diego.
According to the Michelin website, Carlsbad's Campfire, Cucina Sorella in Kensington and Cucina Urbana in Bankers Hill, El Jardin in Point Loma, Juniper & Ivy in Little Italy, Kettner Exchange also in Little Italy, Lola 55 in the East Village and Solare at Liberty Station all made this year's list. Originally introduced in 1997, the Bib Gourmand category highlights food places that serve top of the line meals that include two courses and a glass of wine or dessert for $40 or less. California now includes 88 new Bib Gourmand locations.
"Our inspectors were very impressed by the diversity of cuisine and culinary trends that they have seen across the Bib Gourmand selection in California, and it's great to see that many of these restaurants take advantage of the fantastic local produce available throughout the state," said Gwendal Poullennec, international director of the Michelin Guides, in a statement.
The Bib Gourmand list comes ahead of the inaugural California edition, the "2019 Michelin Guide California", which will be unveiled in Huntington Beach on June 3.
Travel & hospitality reporter Mariel Concepcion can be reached at mconcepcion@sdbj.com or 858-634-4625.