STARTUP: 'SHARK TANK' BOOSTS INTEREST; CO. BATTLES KNOCK OFFS
Inventor Takes the Stylish Route With Twist It Up Comb
Thursday, May 30, 2019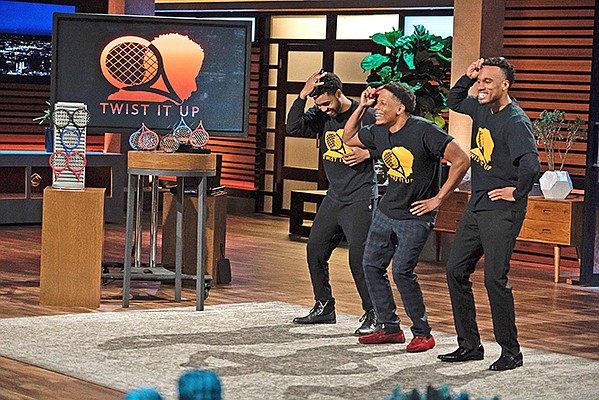 "I spent about 90 minutes trying to find a tennis racket in Brazil" after misplacing his, he said, adding that when he returned to the states, he searched in toy stores, sporting goods stores and online to find a miniature version of a tennis racket, with no luck.
In 2015, after doing extensive research online, Durity partnered with a 3-D printer, an artist buddy of his and an illustrator he found on Craigslist to come up with a cab line of his design and created his first Twist It Up Comb product sample. He took it to his barber, Steven Gray, who urged him to take the product to market.
Durity wasn't ready quite yet. "I wasn't trying to leave a six-figure paying job," he said. So, he opted to keep his invention for his own personal use.
In December of that same year, because of regulations that prohibit barbers from using porous products, Gray, Durity's barber, got fined for having a twisting sponge on his workstation. That's when he called Durity and told him if Durity didn't make a business out of the shrunken tennis racket, then, he would. Durity was convinced.
With $700 of his own money, Durity had his first batch of Twist It Up Comb products manufactured and in January 2016, he attended his first beauty tradeshow.
"We sold out the first day," he said. He attended a second tradeshow and sold out there as well. He attended a third and fourth tradeshow and sold out every time. By that point, Durity had the confirmation he needed to make the Twist It Up Comb business official.
"I took about $1,000 to make prototypes," said Durity about the steps he took shortly after, adding that it took about six or seven tries to get the product to be sturdy enough to begin marketing and selling it. Durity said he taught himself how to do Facebook and Instagram ads by watching YouTube tutorials and that is how he got the word out. Today, Twist It Up Comb works with a manufacturing company in Orange and a fulfillment center in Texas. Twist It Up Comb is available on the company's website as well as beauty supply stores nationally and sells between 4,000 and 7,000 units a month.
Because of the product's popularity, Durity said he is currently in a legal battle with various manufacturers in China, including one called "Twist King," that have knock offs of the Twist It Up product.
"I get it: You have a successful product and it's a compliment that people want to knock it off," said Durity, "But, man, be original. Twist King looks identical to mine and is being distributed across the U.S… We've sent like 70 cease and desist letters, but they just keep popping up."
Legal issues aside, Durity seems confident in the future of Twist It Up. He hopes in the next couple of years the company will get acquired, he said. He also said that Twist It Up Comb began retailing in Europe, Canada and Guyana and he projects the company will reach the $4 million mark in the next two years or so.
Prev Next