Up to $35 Million Awarded to Consortium Led by La Jolla Institute Scientist
Thursday, May 30, 2019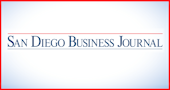 A global effort to combat viral threats like Ebola that's headed by a San Diego professor has been awarded up to $35 million.
Erica Ollmann Saphire started and leads the Viral Immunotherapeutic Consortium, which across five continents takes on Ebola, Lassa virus and other global threats by translating lab results into the field. She's a professor at La Jolla Institute for Immunology, where the consortium is based.
"Recent resurgence of Lassa, the difficulties in containing Ebola outbreaks and the re-emergence of alphaviruses in multiple locations, including the United States, makes the development of therapies against these threats an urgent local and global concern," said Saphire in a news release.
The consortium said it unites government, industry and academia to analyze viral infections, uncovering novel solutions.
The National Institutes of Health, or NIH, is slated to award the consortium $35 million over five years. In the event of budget cuts, 90 percent of the total would be provided, according to the La Jolla Institute.
As an idea of where the consortium intends to make a difference, the current Ebola virus outbreak in the Democratic Republic of the Congo ranks as the second largest in history. Ineffective vaccines and violent conflicts that prevent vaccine distribution fanned the spread.
"There is an urgent need for therapeutics that can be administered after infection because of a lack of effective vaccines or challenges with vaccinating at-risk populations due to ongoing conflicts or resistance in the local population," said Sharon Schendel, program manager of the consortium.