Construction Software Startup eSUB Raises $12 Million
Wednesday, May 29, 2019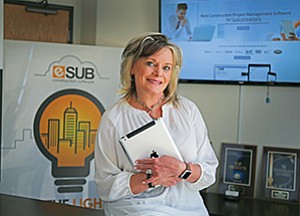 San Diego-based startup eSUB Construction Software raised $12 million in a series B funding round on May 29. New York-based growth equity firm Catalyst Investors led the round, with participation from previous investor Revolution Ventures. The round brought eSUB's total funding raised to date past $20 million.
eSUB's mobile platform helps construction subcontractors manage projects and workflow. It allows project managers to track material costs, workforce information and site data in one system. The company plans to use the addition funding to scale up all areas of the company and accelerate product development. Susan Bihler, a partner with Catalyst Investors, joined eSUB's board of directors as part of the deal.
"Trade contractors are the lifeblood of the construction industry," eSUB CEO Wendy Rogers said in a news release. "They are the true builders who construct commercial construction projects. However, they are underserved by the majority of disjointed point solutions in the marketplace and are forced to utilize systems that are developed for general contractors. Through this new partnership with Catalyst Investors, eSUB is well-positioned to continue our growth and strengthen our product offerings to address the specific needs and workflow requirements of trade contractors."
eSub Construction Software had 60 full-time employees as of 2018. The company was one of the San Diego Business Journal's fastest growing companies, nearly doubling its revenue from 2015 to 2017.