STARTUP: EVENT CREATES 4 TRACKS, RECOGNIZES NEED FOR STRENGTHENING TEAMS
S.D. Startup Week Continues on Right Track
Monday, May 27, 2019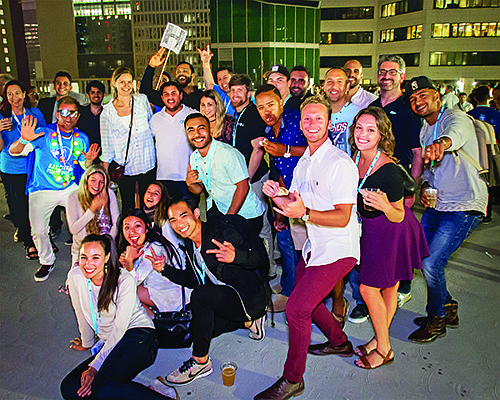 Once started as a way for founders to trade ideas, San Diego Startup Week continues to get larger every year as it brings in thousands of attendees. This year, the festivities will have a home in the San Diego Convention Center for the first time.
When it first began six years ago, San Diego Startup Week brought in about 200 people for two days. Last year, the event brought a crowd of roughly 3,000.

"In the very beginning, back in 2013, we were very much focused on what did our entrepreneurs and CEOs of early stage companies need," said Neal Bloom, chairman of Startup San Diego, the nonprofit that puts on Startup Week every year. "We were two-person teams working on an idea, maybe from EvoNexus, maybe from home."
At the time, most of the companies were in the seed stage, and most of the conversations were around how to get funding for their ideas. There also weren't many groups where founders could get together.
Camaraderie
"There were a few Meetups that were happening, but there was no cohesive reason to bring a bunch of CEOs and founders together. Part of it was mentorship and catharsis. We just needed to get our heads out of the office for camaraderie," Bloom said. "Once we saw how many (startups) came out of the woodwork, we realized this isn't just a hangout, this is an ecosystem."
Since then, both the companies and Startup Week have grown together. San Diego now has several tech companies worth more than $1 billion, including self-driving truck startup TuSimple, and software firms Seismic, Tealium and Kyriba.
The conversations have also changed: It's no longer just about founders raising money, but how do employees build out their sales teams, approach human resources, or help run a company as a technical co-founder?
Not Just for Founders
"If we want our companies to be successful, it can't just be the founder that's leveling up their skillset," Bloom said. "It's got to be everyone in the company that's rowing at the same speed."
This year's event will feature more than 100 panels and events stretching from Tijuana to Carlsbad. Some of the programming will be industry-specific, focusing on growing San Diego sectors, such as biotech, hardware and craft beverages.

The events are also split into four tracks, depending on what stage a startup is at.
The "idea track" is for newly-minted startups or individuals who have an idea they want to grow into a business;
The "seed track" is for companies that are looking to find their market and solidify their business model.
The "growth track" is for startups looking to hit the gas.
And finally, the "San Diego track" is for attendees that want to learn more about San Diego's startup ecosystem.
Tech Hub
Jarrod Russell, Executive Director of Startup San Diego, said the event's growth indicated the startup community is still hungry for knowledge and connection, and that out-of-town visitors increasingly see San Diego as a tech hub.
"The growth of San Diego Startup Week reflects a broader trend in our community: the ongoing formation of a collective voice for innovation, entrepreneurship and economic mobility in San Diego and the Cali-Baja Region," he wrote in an email. "It's about the continual development of our own authentic startup culture. Silicon Valley has its own culture, as do New York, Los Angeles, Seattle, Denver and other major cities; we have ours and it is always evolving."