BIOTECH: CONTRACEPTIVE GEL IS PART OF CEO'S HEALTH MISSION FOR WOMEN
Evofem at Critical Stretch with Potential New Birth Control
Monday, May 27, 2019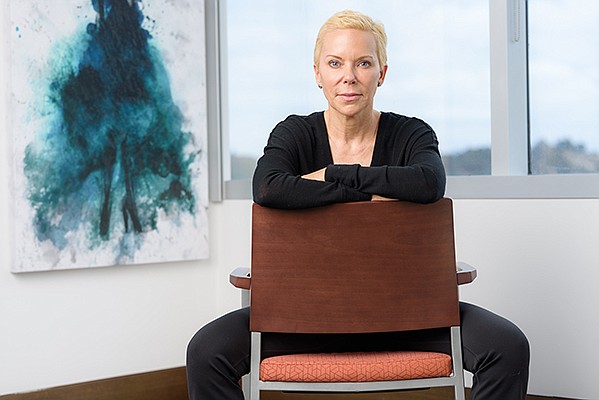 EVOFEM BIOSCIENCES INC.
CEO: Saundra Pelletier
No. of employees: 35
Headquarters: San Diego
Year founded: Spun out of Evomed in 2013
Stock symbol and exchange: EVFM on NASDAQ
Company Description: Evofem developed a contraceptive gel that regulates vaginal pH in a range that's inhospitable to sperm. Later this year the company will ask the U.S. Food and Drug Administration for approval.
Evofem Biosciences wants to be the next big thing in birth control. After a long road, the San Diego biotech finds itself in a pivotal stretch.
Later this year, Evofem will ask the U.S. Food and Drug Administration to approve amphora, its contraceptive gel. The goal: upend a market that's long been dominated by the birth control pill and condoms.
Providing momentum, Evofem is poised to close an $80 million private stock placement. Still, the company must pull in more funding for its planned amphora sales force, a go-it alone commercialization strategy that's rare in the world of biotech. While expensive, the upside of flying solo on the commercial launch would be greater control.
In recent years, CEO Saundra Pelletier built the company, took it public and navigated late-stage clinical testing, or phase 3. It hasn't been easy, she acknowledged.
"We've had a lot of trials and tribulations," Pelletier said. "This hasn't been rainbows and puppy dogs."
Fighting Cancer
Complicating her role, last year Pelletier received a stage III breast cancer diagnosis. After aggressive treatment, she's now in remission and her hair has grown back. Pelletier said she's done with cancer. The sense of optimism extends to the company, which she called her "second baby" — the first being her 11-year-old son.
Last December, phase 3 clinical trial results lifted Evofem. They found the company's gel — which regulates vaginal pH in a range that's inhospitable to sperm — was 98.7 percent effective when used as directed. That's similar to other birth control methods.
Amphora was 86 percent effective when accounting for a fraction of women who incorrectly used the drug candidate. Minimal side effects were reported, Evofem said.
Unlike the pill, amphora doesn't have hormones.
Millions of women can't safely ingest such hormones, while others prefer not to because of side effects like weight gain or depression. Some intrauterine devices, or IUDs, are hormone free, though require a doctor for insertion and removal, while Evofem pitches amphora as on demand.

Opening Some Investors' Eyes
Pelletier said in the past Evofem assumed male investors realized the drawbacks of hormone-laden birth control. But the company broke through after encouraging them to broach the matter with important women in their lives.
"They were shocked. We had so many say to us, 'We had no idea, no one ever told us,'" said Pelletier, whose office walls are adorned with female empowerment posters.

Past failures in the women's health industry also made investors skittish. Pelletier said amphora can't be lumped in with them, calling the drug candidate "game-changing."
In the fourth quarter of this year, Evofem will seek the FDA's blessing to sell amphora. Analysts expect the drug to hit the market in 2020.
An STD Treatment?
Beyond contraception, amphora may also prevent chlamydia and gonorrhea. Clinical trial results in the fourth quarter could pave the way for further testing, potentially allowing amphora to be marketed for the sexually transmitted diseases by 2022, according to analysts.
Protecting against chlamydia and gonorrhea would make amphora that much more compelling, said analyst Yasmeen Rahimi with Roth Capital Partners. Rahimi believes Evofem's share price will about triple to $15 in the next year, in part because the company recently strengthened its balance sheet ahead of amphora's potential launch.

In April investor PDL BioPharma bought $30 million in Evofem stock. A second tranche providing up to $50 million is expected to close next month, with PDL, Woodford Investment Management and Invesco Asset Management participating.
Rahimi said it appears amphora is the only on-demand, non-hormonal drug candidate. But she cautioned that FDA approval isn't guaranteed. If obtained, Evofem must differentiate itself in a saturated birth control market, she added.
Oppenheimer analyst Leland Gershell said the recent cash injection should quell investor concerns. They had feared Evofem would partner with a pharmaceutical to release the drug in the U.S., which would have meant giving up a cut of sales.
Most biotechs go this route. But Pelletier said the company didn't want to be at the whim of a larger pharmaceutical, few of which focus on contraception. It helps that Evofem can market to prescribers with a relatively small sales force, anticipated to have 90 to 125 representatives.
Outside the U.S., Evofem plans to entrust commercialization to a partner.
Additional Funds Needed
While Evofem is set to close $80 million, the company is seeking an additional $50 million to $90 million in investment by the end of 2020 for amphora's commercial launch.
Its pitch: Amphora will eventually reach $1 billion annually in peak sales. Rahimi with Roth Capital Partners forecasts about the same, while Gershell with Oppenheimer believes sales would be about half that.
Pelletier said conservative sale projections may fail to grasp the size of the market, along with other selling points of amphora.
The gel — administered via a tampon-like device before sex — is lubricating for sexual pleasure. A sultry two-minute marketing video from Evofem drives home the point.
Not Fear Based
"If you look at how contraception is right now marketed, it's all fear based. You don't want to get pregnant," Pelletier said. "No one ever talks about the fact that oh my goodness women should have pleasurable sex."
Amphora would require a prescription to ensure correct use, according to the company, declining to state a price point, citing ongoing negotiations with payers. Evofem said research suggests amphora would largely be covered by insurance, but discounts would be available to those without coverage.
Beyond amphora, Evofem touts its team. The 35-employee biotech has attracted talent from large pharmaceuticals.
"Our own investors have said to me, 'How in the hell did you recruit these people when you were just a little invisible nobody startup?'" said Pelletier. Her answer: They're die-hard advocates of women's health.
Growing up in rural Maine, Pelletier said women in her community had two choices: who to marry and how many kids to have. She came to see contraception as a powerful way to give women more control over their future.
Her experience in women's health includes an executive position at pharmaceutical G.D. Searle and founding a nonprofit called WomanCare Global, aimed at distributing contraceptives in the developing world.
In 2013, Pelletier was brought on as a consultant at EvoMed. She was asked by investors to spin out amphora into a separate company with her at the helm, on the belief the drug candidate had standalone potential.
Dealing With Adversity
But the role brought unanticipated challenges. Pelletier and team discovered that part of amphora's phase 3 trial was held in Russia, drawing FDA disapproval. The FDA required a confirmatory clinical trial, albeit smaller, with results due this summer.

"That was a very hard and challenging time. I had just recruited this team and then received a complete response letter from the FDA requiring another clinical trial," Pelletier said. While a setback, she said investors stood behind the company.
Then last year she was diagnosed with phase III breast cancer. Pelletier underwent chemotherapy, a double mastectomy, a hysterectomy, and an oophorectomy. She was nervous she might be asked to step down.
"It was a wonderful blessing to be at a company that met me where I was, that responded to what I needed and wanted, and gave me a chance to do both: that I could care about my health and I could still be a fully functioning CEO," Pelletier said.
Walking out of her office, she passed by a poster that reads, "Nevertheless, she persisted."