North San Diego Business Chamber Elects New Directors
Monday, May 27, 2019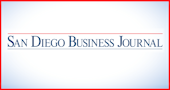 North San Diego Business Chamber has elected new directors for the 2019-2020 term.
According to a news release, Denise Visconti, the current board chair, will continue a second term leading the board of directors. Visconti currently serves as managing shareholder of the San Diego Office of Littler Mendelson national law firm.
Six other officers were also elected along with Visconti, including:
Michiko Araki, vice president of New Business/Corporate Marketing, Sony
Jill Farwell, director, executive development, Rady School of Management, UCSD
David Hallisey, vice president, corporate communications, Petco
Barbara Kennedy, president/CEO, North County Health Services
Mike Teresso, president, Baker Electric Home Energy
Peter Zien, owner/CEO, AleSmith Brewing Co.
The chamber's board is made up of businesses of all sizes and represents many industries and companies in the region. North San Diego Business Chamber is the only five-star US Chamber of Commerce accredited organization in the San Diego region, according to the Chamber. California has a total of 10 US Chamber accredited organizations.
Travel & hospitality reporter Mariel Concepcion can be reached at mconcepcion@sdbj.com or 858-634-4625.