PROPERTY: TENANT DEMAND STILL ROBUST; RENTS INCREASE
Life Sciences Occupancy Growth Down 44% in Q1
Sunday, May 26, 2019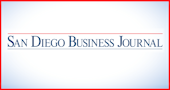 San Diego's life sciences cluster produced only 77,600 square feet of occupancy growth in the first quarter of the year.
That represented a 44 percent year-over-year drop, according to a recent report from commercial real estate firm JLL.
Driving the decrease: Several companies renewed their leases without changes, while Pathway Genomics and Regulus Therapeutics downsized operations. Each decreased their footprints by more than 30,000 square feet during the quarter.
With 18 deals, the quarter saw 321,000 square feet of leasing activity, down 5 percent from the prior year period, according to JLL.
Major deals included Celgene extending its lease and expanding its footprint to 61,800 square feet. Last year, the New Jersey pharmaceutical strengthened its San Diego presence when it bought Impact Biomedicines for up to $7 billion.
But like many past quarters, small to mid-size biotechs were responsible for most leases. About 67 percent of life sciences leases were under 17,000 square feet.
Notably, startup Apen Bio signed an 11,000 square-foot lease, and Shanghai Pharma locked down a 7,185 square-foot lab.
Rents continue to rise.
In Torrey Pines, the historical epicenter of San Diego biotech, asking rents averaged $4.38 per square foot. UTC rents were a smidgeon below that.
"Tenant demand from companies of all sizes remains robust," states the report. "Some of San Diego's larger companies — Illumina, Neurocrine Biosciences and Dexcom — are all evaluating growth needs. Additionally, there are several companies in the market assessing space options in the 40,000 to 60,000 square foot size range."
The report notes venture capital investment in San Diego life sciences fell in the first quarter compared with highs in 2018.

However, venture capital is rebounding. In the last month Poseida Therapeutics secured $142 million, Lumena Pharmaceuticals brought in $50 million and Vividion Therapeutics pulled in $82 million.