LEGAL: QUALCOMM CASE TO TAKE TIME TO PLAY OUT
Licensing Business May Be on the Line
Sunday, May 26, 2019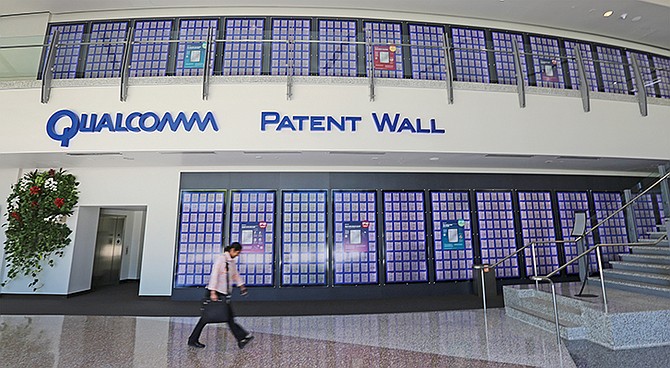 It seemed like Qualcomm Inc. was in the clear after the company struck a settlement with Apple Inc. The deal removed several of Qualcomm's largest legal obstacles, and returned one of its largest customers for the next six years. Qualcomm's stock was also near an all-time high, passing $80 in the weeks after the settlement.
That changed quickly the night of May 21, when U.S. District Judge Lucy Koh found Qualcomm's licensing agreements violated antitrust law.
In her 230-page verdict, she affirmed the FTC's claims that Qualcomm had harmed competition in the market for baseband processors, also known as modem chips. Qualcomm stock fell nearly 11 percent to $69.31 on May 22, after news broke of the verdict.
"The evidence showed a sufficient risk that Qualcomm will have market power in 5G modem chips and could exercise its dominance to extract unreasonably high royalties," Koh wrote in her determination.
Qualcomm said it will appeal the ruling and ask for a stay.
Both the FTC's case and Apple's case challenged Qualcomm's "no license, no chips" policy, which requires its customers to pay to license its technologies in order to use its modem chips in their devices. Qualcomm charges a fee of 5 percent of the retail cost of a device, capped at $500, or roughly $25 per phone.
Qualcomm makes several technologies that go into smartphones, including the modem chips that allow phones to connect to a cellular network. The company had an estimated 140,000 patents or pending applications as of March. Some of its technologies have been deemed necessary for wireless standards, such as 4G or 5G. In those cases, Qualcomm is required to license them on fair, reasonable and non-discriminatory terms.
But selling the chips themselves isn't Qualcomm's most profitable business. Last year, Qualcomm Technology Licensing, which is responsible for the company's patents and licensing agreements, brought in 23 percent of the company's revenue, at $5.16 billion. It also accounted for the largest portion of Qualcomm's earnings before taxes.  
Koh's verdict called the practices behind Qualcomm's most profitable business segment back into question. She ruled that Qualcomm must not condition the supply of its modem chips on a customer's license status. It also must make its standard-essential patents available to other modem-chip suppliers, such as Intel and MediaTek.
Qualcomm also may not strike exclusive agreements for the supply of its chips, as it has done in the past with Apple and Samsung. In the FTC's case, both Apple and Qualcomm testified that they had struck a deal where Apple would exclusively use Qualcomm's chips in its devices, in exchange for a $1 billion payment, from 2011 to 2015.
Prev Next