LEGAL: QUALCOMM CASE TO TAKE TIME TO PLAY OUT
Licensing Business May Be on the Line
Sunday, May 26, 2019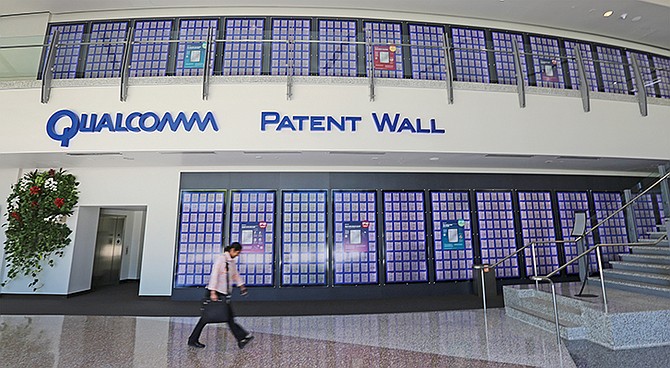 It seemed like Qualcomm Inc. was in the clear after the company struck a settlement with Apple Inc. The deal removed several of Qualcomm's largest legal obstacles, and returned one of its largest customers for the next six years. Qualcomm's stock was also near an all-time high, passing $80 in the weeks after the settlement.
That changed quickly the night of May 21, when U.S. District Judge Lucy Koh found Qualcomm's licensing agreements violated antitrust law.
In her 230-page verdict, she affirmed the FTC's claims that Qualcomm had harmed competition in the market for baseband processors, also known as modem chips. Qualcomm stock fell nearly 11 percent to $69.31 on May 22, after news broke of the verdict.
"The evidence showed a sufficient risk that Qualcomm will have market power in 5G modem chips and could exercise its dominance to extract unreasonably high royalties," Koh wrote in her determination.
Qualcomm said it will appeal the ruling and ask for a stay.
Both the FTC's case and Apple's case challenged Qualcomm's "no license, no chips" policy, which requires its customers to pay to license its technologies in order to use its modem chips in their devices. Qualcomm charges a fee of 5 percent of the retail cost of a device, capped at $500, or roughly $25 per phone.
Qualcomm makes several technologies that go into smartphones, including the modem chips that allow phones to connect to a cellular network. The company had an estimated 140,000 patents or pending applications as of March. Some of its technologies have been deemed necessary for wireless standards, such as 4G or 5G. In those cases, Qualcomm is required to license them on fair, reasonable and non-discriminatory terms.
But selling the chips themselves isn't Qualcomm's most profitable business. Last year, Qualcomm Technology Licensing, which is responsible for the company's patents and licensing agreements, brought in 23 percent of the company's revenue, at $5.16 billion. It also accounted for the largest portion of Qualcomm's earnings before taxes.  
Koh's verdict called the practices behind Qualcomm's most profitable business segment back into question. She ruled that Qualcomm must not condition the supply of its modem chips on a customer's license status. It also must make its standard-essential patents available to other modem-chip suppliers, such as Intel and MediaTek.
Qualcomm also may not strike exclusive agreements for the supply of its chips, as it has done in the past with Apple and Samsung. In the FTC's case, both Apple and Qualcomm testified that they had struck a deal where Apple would exclusively use Qualcomm's chips in its devices, in exchange for a $1 billion payment, from 2011 to 2015.
Koh ruled Qualcomm may not interfere with its customers' ability to communicate with government agencies about potential legal or regulatory matters, and that the company must submit to seven years of monitoring, reporting to the FTC on an annual basis. Last year, Qualcomm struck a new licensing deal with Samsung, paying it $100 million to extinguish its antitrust claims, according to court documents.
"Qualcomm continues to enter exclusive deals that could foreclose rivals from the market," Koh wrote.
Hurry Up And Wait
The verdict cast a dark cloud over Qualcomm's business. But, stock price aside, analysts don't expect it will have an immediate effect on the company.
"It's not really enforceable. The biggest issue with tech investors is that Qualcomm is facing a long fight ahead," Joel Kulina, senior vice president of institutional cash equities for Wedbush wrote in an email. "Renegotiating its existing licensing agreements would force an overhaul at Qualcomm of a business that brought in more than $5 billion of high-margin revenue last year."
Qualcomm announced on May 22 that the company would seek a stay. The chipmaker plans to appeal the case to the U.S. Court of Appeals for the 9th Circuit. That case isn't expected to go to court until the fall, at the earliest.
"We strongly disagree with the judge's conclusions, her interpretation of the facts and her application of the law," Don Rosenberg, executive vice president and general counsel of Qualcomm, said in a statement.
"Short term, I think there will likely be a stay. Even if there's not a stay, things don't move very quickly in the land of intellectual property," said Patrick Moorhead, founder of Moor Insights and Strategy. "Don't expect big changes when Qualcomm has already locked down deals with its top customers."
As for the impact Qualcomm's current licensing agreements, UBS Securities Analyst Timothy Arcuri wrote in a research note that it was "highly unlikely" that the news would change the multiyear agreement that Qualcomm recently struck with Apple.
The same day the two companies settled, Intel announced it would exit its smartphone modem business. Past reports indicated the 5G modem chips Intel had been developing for Apple faced delays.
"(Apple) just signed an agreement that was quite favorable for Qualcomm, and of course it needs Qualcomm modems for the 5G phone in 2020," Arcuri wrote.
The news could present trouble for another Qualcomm customer. The company had been attempting to hammer out a new licensing deal with Chinese electronics company Huawei, after reaching an interim licensing agreement. The escalating trade war between the U.S. and China, and the more recent ruling, could have a dampening effect on any dealmaking.  
"It is unclear if this ruling has any implications on the recent settlement with Apple or last year's extended licensing agreement with Samsung," wrote Ross Seymore, a research analyst with Deutsche Bank. "However, it seems likely that the combination of this ruling and the recent U.S. ban on selling to Huawei would delay and possibly reduce the magnitude of any licensing settlement with Huawei."
With the current ban on selling products to Huawei, or purchasing its products, Qualcomm may also have some political leverage. The U.S. Department of Justice previously cautioned Koh against any penalties that could hamper the U.S. 5G market, and asked Koh to hold a separate hearing to consider the scope of an injunction.  
It wouldn't be the first time the current administration has gone to bat for Qualcomm. President Donald Trump blocked Broadcom's proposed buyout of Qualcomm last year, citing national security concerns.
"Considering that the Trump administration considers Qualcomm's communication technology and 5G development as critical to national security, there may be further delays in forcing Qualcomm to change its business model," Kevin Cassidy, an analyst with Stifel Financial Corp., wrote in a research note.