FILM: FILM HUB OFFERS PROFESSIONAL STUDIOS, AN ALTERNATIVE TO LA
Coworking Location Takes Production Facility Role
Sunday, May 26, 2019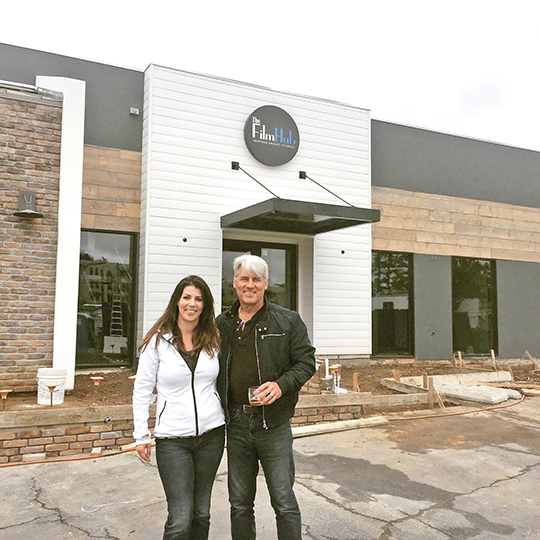 Film Hub, a 12,500 square-foot coworking studio focusing on movie and television productions in Vista, is set for a soft opening June 1 while construction wraps up with a formal opening tentatively set for September.
Jim Ellis, a film and television producer, and his daughter, Lauren Fehlhaber, are converting a former post office built in 1960 into what they say is a modern production location that has sound stages, a podcast/audio recording room, and an editing control room.
Fehlhaber has designed sets and scenery in the film industry and is overseeing the renovation of the post office building.
"We gutted the whole thing and started from scratch, which was a great idea when you can build it exactly the way it should be built," Ellis said. "It's a cool building."
Film Hub also has 3,000 square feet of co-working open space, 20 offices, conference rooms, screening and casting areas, a kitchen set for cooking shows, and a Foley stage for making sounds that are added to films.
Ellis bought the building in September 2017 for $1.2 million, according to CoStar, a real estate listing service.
Since then, Ellis said he's spent about $1.8 million renovating the building, including adding a second story mezzanine and a large skylight to bring in natural lighting.
The interior of the building has been designed to resemble a Hollywood film noir set with a large chandelier.
The idea for Film Hub grew out of Ellis' own experiences producing television commercials and a faith-based feature film.
He figured others involved in video and audio production who live in North County would prefer to work closer to home than commute to Los Angeles.
Added to that, he said people working out of their homes would likely jump at the chance to work in a studio environment that was available whenever they needed it.
"We have been in the video production industry for over 30 years and have produced everything from industrial videos to full-length feature films. As producers, we knew this idea would save anyone producing audio or video projects a great deal of money," Ellis said. "And because of our background, we were able to design everything a producer would ever want."
Already, nearly a dozen film production companies — some from as far away as Los Angeles — have expressed interest in using Film Hub, Ellis said.
"We thought we knew all the production companies but we found out that we didn't," Ellis said. "We didn't realize how many people were working out of San Diego."
Several people also have expressed interest in using Film Hub for podcasting and live-streaming videos on YouTube, Fehlhaber said.
"Our space works great for them," Fehlhaber said.
Although Film Hub is geared toward video and audio productions, it's open to anyone looking for coworking space.
"Some people just think it's cool to be in a studio environment," Fehlhaber said.
Aside from the services and work space Film Hub offers, the location itself is attractive because it's in the middle of what's becoming a vibrant downtown for Vista.
"The beauty of this building is it's right downtown and you can walk to 30 restaurants," Ellis said.