LEGAL: HARASSMENT LAWS GET TOUGHER IN PROTECTING WORKERS
Me Too Movement Goes to Work
Thursday, May 23, 2019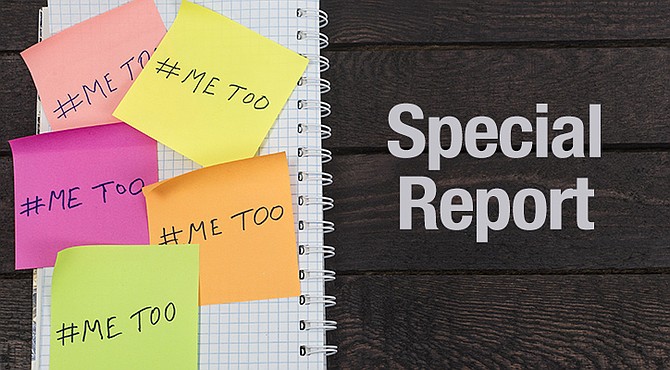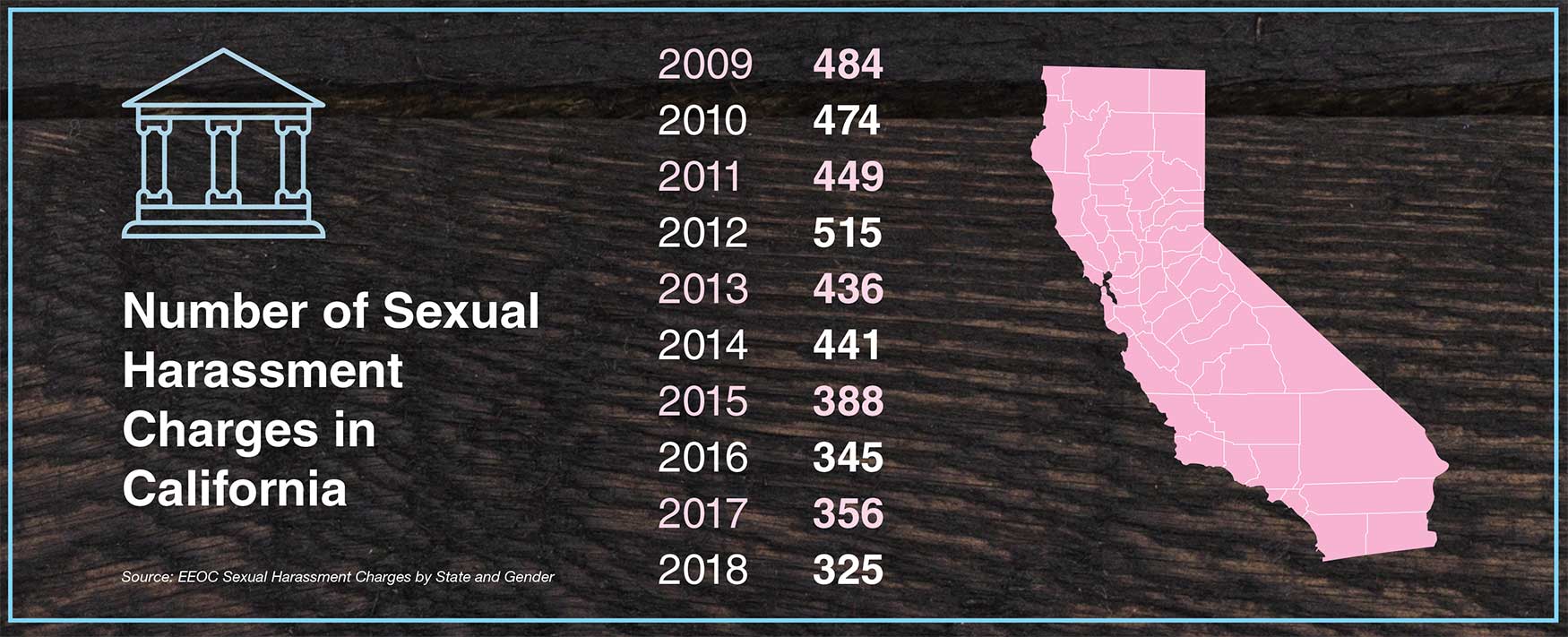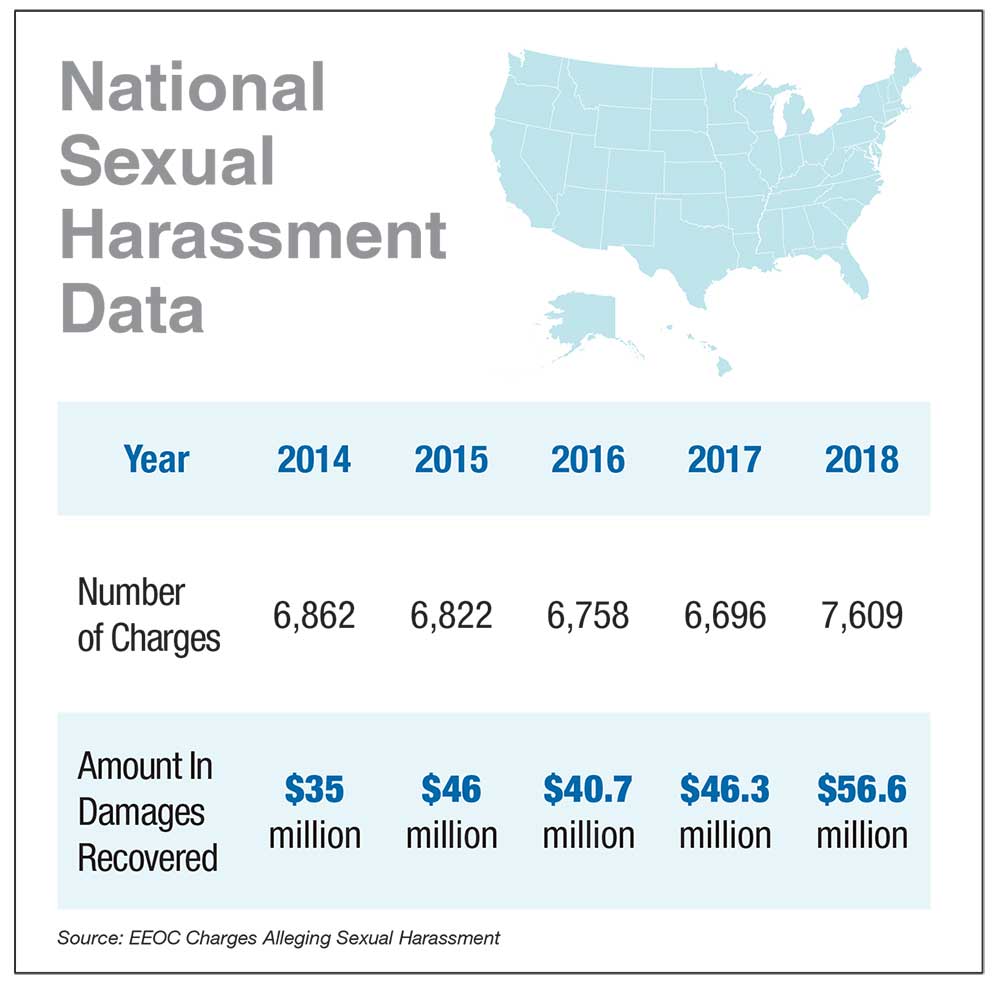 At the prestigious Salk Institute for Biological Studies in Torrey Pines, three female researchers had sued the organization for gender discrimination. Scientists Katherine Jones, Vicki Lundblad and Beverly Emerson filed lawsuits in 2017, claiming they were not given the same access to grant funding, salaries and promotions as their peers.
Months later, more troubling allegations were brought forward. In an article published by
Science Magazine, eight women alleged one of their colleagues, a prominent cancer scientist, had sexually harassed them. He resigned in June of last year.
By November, the Salk Institute had settled all three gender discrimination cases. They are just a handful of the many that came to light after the #MeToo movement garnered attention in late 2017.
Started as a grassroots movement by civil rights activist Tarana Burke in 2006, #MeToo was created to support survivors of sexual violence. Years later, the hashtag #MeToo went viral when actress Alyssa Milano, and dozens of other women came forward with allegations of sexual assault and rape against former producer Harvey Weinstein.
Since then, the movement has had a ripple effect across the country. State laws have gone into effect to protect employees that report harassment and hold companies accountable. Attorneys are taking on more cases and nonprofits have received more requests from businesses for help training their employees.
"We've definitely seen an uptick in the number of sexual harassment complaints that are being filed, especially at California state court level," said Marie Burke Kenny, a partner with Procopio. "There is no question in my mind that that type of litigation is increasing, and it's on the rise."
Verna Griffin-Tabor, CEO of the Center for Community Solutions, a San Diego nonprofit that provides programs addressing sexual violence, said more individuals, schools and businesses have been requesting support.
"Now we have more requests than we can meet the need," she said. "If we have the opportunity, that schools want it in our community and that corporations want it, what we can do to stop further harm and prevent it from happening in the first place is tremendous."
The Equal Employment Opportunity Commission reported the number of sexual harassment charges filed with the agency last year increased by 13.6 percent, for a total of 7,609 claims. Companies and defendants also paid more in fines last year. The EEOC obtained $56.6 million in monetary benefits for victims of sexual harassment in 2018, up 22 percent from 2017.
"With the #MeToo movement, I think people are more aware of our agency now, and what we're able to do with protecting rights and investigating allegations of harassment," said Nicole St. Germain, outreach and education coordinator for the EEOC's Los Angeles District Office.
In California, the number of sexual harassment charges filed remained relatively flat from 2017 to 2018. The EEOC saw 325 sexual harassment charges across the state last year, a slight decrease from 356 charges in 2017.
John Niedernhofer, director of Marsh & McLennan Insurance Agency's business insurance division, said he had also seen more activity, though not as significant of an increase as in other states.
"Outside of California, we have seen a dramatic increase, higher awareness and more claim activity," he said. "It really is everywhere. … Employment and labor attorneys are very busy and will continue to be so for the foreseeable future."
Still Underreported
Even with more survivors sharing their stories in light of the #MeToo movement, the number of cases is likely underreported by a significant margin. According to a 2016 report by the EEOC, roughly three out of four individuals who had experienced harassment never even spoke about it to a manager or union representative.
For some employees, it's because they don't know their rights, or they see it as a risk to their livelihood.
"I think that sexual harassment is something that affects all people across the board. We do see a spike in cases that involve entry-level positions and with the younger population who don't have experience in what their rights are," said Jessica Pride, managing partner of the Pride Law Firm. "It's your first job. You're trying to get a career in this industry. You still have student loans and are living paycheck to paycheck. It's so hard to come forward. These are monumental things you're asking someone to do."
Even helping employees understand what sexual harassment is can lead to vastly different results. According to the EEOC, roughly 25 percent of women surveyed said they had experienced sexual harassment when the term was not defined. When employees were asked more specific questions, such as whether they had experienced unwanted sexual attention or coercion, 40 percent of women surveyed said they had experience sexual harassment.
In other cases, employees might perceive indifference on the part of the company, or fear retaliation if they come forward.
"Depending on the company culture, there is still fear of retaliation," said Chris Bryant, president and CEO of the San Diego Employers Association. "Up to this point, that was the key thing that stopped people from speaking up: You would not be promoted; your career would be sidelined; all of a sudden, you're not included in key meetings or key appointments."
New Laws
New laws that went into effect this year were aimed at protecting employees that file a complaint from retaliation, and providing additional training to employees and managers on what to do if they experience or observe harassment.
"2019 was a real watershed year for anti-harassment legislation," said Lonny Zilberman, a partner with Wilson Turner Kosmo LLP. "The clear message here, where I think this is going, is each individual is responsible for creating the workplace that they want to work in. It's a focus on putting things more in the light… not sweeping things under the rug."
One of the notable pieces of legislation, Senate Bill 820, prevents secret settlements and non-disclosure agreements in sexual harassment cases. While a business may keep the amount paid in a settlement confidential, individuals are still allowed to share the facts of the case.
"There's going to be a lot more sunshine on this stuff," Zilberman said. "That's probably a good thing, because that makes employers think twice about accepting bad behavior from employees."
Procopio's Kenny said the new law would allow employees to bring forward claims without fear of being countersued for defamation.
"All of this is designed to empower people to speak up and redress really unlawful harassment that had gone unaddressed at some time," she said.
Senate Bill 1300 provided several sweeping changes. One portion of the bill says companies are responsible for any act of harassment by non-employees, such as customers, volunteer or contractors. Bryant, of the San Diego Employer Association, said local companies had reported an uptick of employees reporting inappropriate customer behavior.
"The customer is not always right," she said. "Employees have a right to be safe in their environment."
Another key element of SB 1300 notes that a single incident of harassment is enough to go to trial, if it interfered with an employee's work or created a hostile work environment. While before, companies could get a case dismissed by a judge if the harassment wasn't deemed severe or pervasive enough, that's no longer the case.
"Severe and pervasive is a pretty high burden. It had to be something so egregious," Pride said. "Now, a stray remark is enough to constitute sexual harassment."
Training Requirements
One of the new laws that will affect California companies the most immediately is the requirement to provide harassment training for employees and managers every two years. While before, only companies with more than 50 employees had to provide training to managers, now companies with five or more employees must provide training to their entire staff, including part-time and contract workers.
"At the legislative level, this has been the most impactful immediately to employers," Kenny said. "Part of changing workplace culture is changing awareness. The best way to do that is through education. I think that this is a positive development."
For smaller companies, the added training requirements have presented logistical challenges. Bryant said small businesses had expressed concerns about training costs, while retail operations with multiple shifts have to coordinate a designated time where they can bring everyone together.
"The EEOC is being very aggressive about ensuring people are at least providing this training," she said.
While the discussions around #MeToo primarily focused on sexual harassment, it's important to note that most of the new laws apply to all types of harassment. That includes harassment based on a person's race, nationality, gender, age or religion. Between the discussions around #MeToo, and the new laws in place, attorneys said the onus is shifting more to employers to prevent and act on harassment.
"From what we've seen in the crisis center, our culture and our communities are shifting the responsibility from the person who endured (the harassment) to the person who committed it," said Griffin-Tabor, of the Center for Community Solutions. "I've never been more hopeful. It is moving. It is changing."