Pacific Surf Designs Wins Appeal Decision
Wednesday, May 22, 2019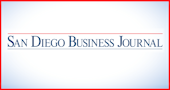 The U.S. Court of Appeals for the Federal Circuit has decided that all claims of a patent against San Diego-based Pacific Surf Designs Inc., mostly by Canada-headquartered Whitewater West Industries Ltd., are unpatentable. According to a news release, this victory comes after other wins against Surf Waves Ltd., and Flowrider Surf Ltd., both affiliates of Whitewater West Industries.
Whitewater has made a series of lawsuits against Pacific Surf Designs dating back to 2014, states the release. As a result of the latest lawful decision, Pacific Surf Designs said it intends to seek reimbursement of all legal fees incurred.
Pacific Surf Designs manufactures custom-designed sheet wave surf simulators serving waterparks, retail and other industries.
Travel & hospitality reporter Mariel Concepcion can be reached at mconcepcion@sdbj.com or 858-634-4625.