DINING: ATTENTION TO DETAIL GOES FROM PAY TO PRODUCT FRESHNESS AND MORE
At This Pancake House, Even the Décor Is Delicious
Tuesday, May 21, 2019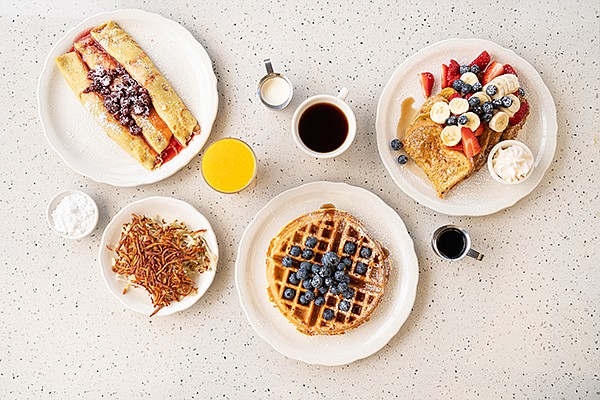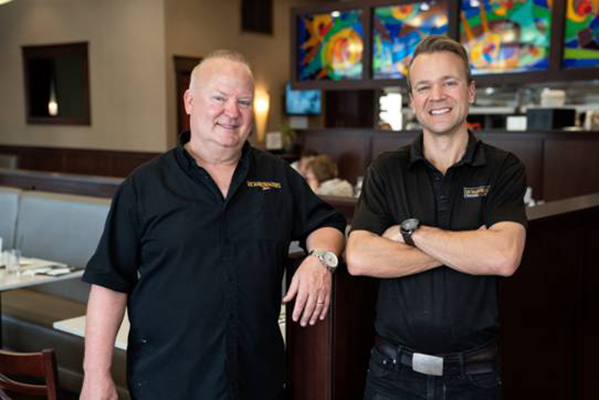 RICHARD WALKER'S PANCAKE HOUSE
Owners: Richard Walker Sr. and Richard Walker Jr.
Revenue: About $3 million per location (three locations in San Diego County, two in Chicago)
No. of Employees: 20-25 per location
Headquarters: La Jolla (flagship location downtown)
Year founded: 1989
Company Description: A family-owned breakfast and lunch restaurant chain known for its baked omelets and pancakes.
Richard Walker Sr. is the owner of two Richard Walker's Pancake House restaurants in Chicago and the flagship downtown location in San Diego. Richard Walker Jr. is the owner of the La Jolla property as well as the latest addition up in Carlsbad.
It's the "best way to maintain family relationships," said Richard Walker Jr. These days, "my father and I work together at least four hours per week. It's a nice thing to be able to loan servers and cooks to each other every once in a while. But, from a management perspective, we are completely independent."
Still, it is what binds the locations together that makes the Richard Walker's Pancake House business successful, according to Walker Jr. While there are plenty of breakfast and lunch spots in San Diego County for patrons to choose from, the Walker restaurants are thriving because from décor to its food offerings to the way the staff is competitively compensated, they are collectively unique, he said. As a result, Walker Jr. said each restaurant, with 20-25 employees a piece, has a revenue of about $3 million annually, and that number continues to grow each year.
"We invest a lot of money to make the space and the restaurant itself be something that is memorable," he said, adding that there are mosaic stained glass windows throughout the properties. "This is not a café; this is not a breakfast joint. These are elegant, beautiful stores."
But, more importantly, according to Walker Jr., is the food offerings and how they are prepared. Walker Jr. said the restaurants source almost everything locally, direct from market. The eateries don't house freezers, deep fryers or even conventional can openers, he said, because everything that the customer is served is fresh.
"Getting a freezer would be a game changer," he said, but it just isn't the Walker family way. Walker Jr. said the restaurants get deliveries approximately three times a week as a result.
Walker Jr. also touts the Richard Walker's Pancake House's oven-baked omelets and pancakes and claims not many food places in Southern California offer anything quite like them.

"Even though there are many bacon and egg options around the world, you can't get our oven-baked plates anywhere else around these parts," he said. He adds that he pays his back-of-the-house staff "a lot" of money "to keep them happy," and retain them, which is an important aspect of the business.
The Walkers have been in the restaurant industry since 1948, when Walker Sr.'s father opened his first food business. In 1989, Walker Sr. opened the first Richard Walker's Pancake House location in Chicago. In 2006, after relocating to San Diego, mostly due to the mild year-round climate, Walker Sr. opened the first Richard Walker's Pancake House in Southern California.
In 2014, Walker Jr. decided he wanted to open his very own Richard Walker's Pancake House restaurant. So he put working capital from the existing location together and took out a small business loan and opened an eatery in La Jolla. Two months ago, he opened his second location, the company's third location in San Diego, and the first in North County. He hopes, in the near future, to open a few more Richard Walker's Pancake Houses around town.
Travel & hospitality reporter Mariel Concepcion can be reached at mconcepcion@sdbj.com or 858-634-4625.