San Diego Tech Company, Ensight Technologies, to Help with Parking
Originally published May 20, 2019 at 5:05 p.m., updated May 20, 2019 at 3:16 p.m.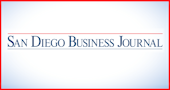 Access Professional Systems, a San Diego-based parking technology provider, has launched a new parking guidance company called EnSight Technologies. According to a press release, EnSight, also headquartered in San Diego, is an intelligent camera-based solution that is less costly and requires less infrastructure than traditional parking guidance systems.
Instead of using parking guidance sensors on each individual parking spot, EnSight Technologies' solution uses intelligent cameras mounted on strategic locations. The system will start with total garage occupancy and then scale up to level occupancy, specialty parking and aisle counts. The data will then be transmitted to EnSight's software, which will analyze car counts to determine how many spaces are available. The information will be communicated via dynamic signage located at the facility's entrances, on each floor or additional signs.
EnSight can be used with other parking technologies, as well.
"Every owner and operator wants to offer parking guidance, but traditional PGS systems are often just too costly," said Chris Scheppman, president of Access Professional Systems and managing member of EnSight Technologies, via a statement. "We have developed a smart, simple and scalable parking guidance ecosystem that requires less equipment to guide parkers to open spaces. Our mission is to provide a guidance solution for the masses, not the few. We believe that our model of intelligent simplicity will transform the parking experience, as well as parking facility management."
EnSight Technologies has already completed installation at Manhattan Village in Manhattan Beach, and will also be added to One Paseo, a mixed-use complex near Del Mar.
Travel & hospitality reporter Mariel Concepcion can be reached at mconcepcion@sdbj.com or 858-634-4625.