Ra Medical Sues Strata Skin Sciences
Sunday, May 19, 2019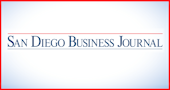 Carlsbad's Ra Medical Systems on May 16 sued Strata Skin Sciences and its board chair. The lawsuit alleges a campaign of false and misleading statements to financial partners before, during and after Ra Medical's initial public offering.
In the lawsuit, filed in the U.S. District Court of Southern California, Ra Medical alleges Strata engaged in a "deliberate attempt to derail Ra Medical's mission" by limiting its access to capital markets and by harming its brand and reputation.
Strata also breached a non-disparagement provision in a prior settlement, as well as committed trade libel, Ra Medical contends in the lawsuit.
"Ra Medical supports innovation and competition in the medical device market," the company said in a statement. "Strata's actions did nothing to advance innovation or competition."
The legal action names Pennsylvania-based Strata, company board chair Uri Geiger and Accelmed, which is Strata's majority stockholder. Strata did not return a request for comment.
Ra Medical makes a laser catheter to treat vascular and dermatology diseases. Last year, the company's IPO raised $86 million.
The lawsuit seeks monetary damages and legal fees.