SHIPBUILDING: SHIP COSTS $642M; PROGRAM COULD BE $8B
NASSCO Lays Keel for First Fleet Replenishment Oiler
Sunday, May 19, 2019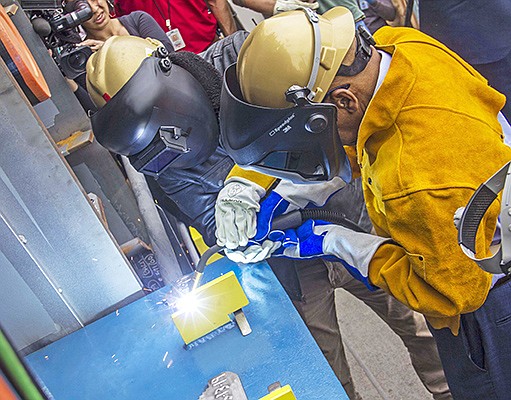 General Dynamics NASSCO laid the keel for the first of up to 20 new U.S. Navy oilers — Navy auxiliary ships that refuel fighting ships in the middle of the ocean.
The $642 million first ship is part of a program that could eventually swell to $8 billion. NASSCO has a good chance of getting it all, though other shipbuilders may vie for a piece.
The ship in the May 13 ceremony will eventually be named after Rep. John Lewis, a 79-year-old congressman who has represented Atlanta since 1986. Lewis, who rose to fame by participating in high-profile civil rights protests in the South during the 1960s, was in San Diego for the ceremony. He took part in an old shipbuilding ritual by welding his initials into the keel of the ship that will bear his name.
NASSCO expects to deliver the ship in December 2020. By the time it is complete, it will be 742 feet long and displace 49,850 tons. NASSCO expects the ship to be assigned to the Western Pacific Ocean (near Asia and Australia) as well as the Indian Ocean.
The first six ships are being built under a contract awarded by the Naval Sea Systems Command to NASSCO in June 2016. The $3.2 billion deal covers design and construction. As yet Congress has approved funding for four ships, according to a Congressional Research Service report. Funds for two additional ships are in the fiscal 2020 Pentagon budget, the report said, adding that the two newest ships in the order came in at $528 million each.
Fuel from oilers replenish ships or the aircraft that embark with them. Oilers also carry a limited amount of other supplies, such as fresh water or dry goods. The new ships from NASSCO feature double hulls to guard against oil spills.
The Navy has a fleet of 15 Henry J. Kaiser-class oilers, built by the Avondale Shipyards in New Orleans, which are expected to reach the end of their 35-year service lives beginning in 2021.
NAASCO, a unit of General Dynamics (NYSE: GD), also runs a U.S. Navy ship repair business as well as a business building commercial ships. It is completing two ships that Matson Navigation Co. Inc. (NYSE: MATX) will use to transport containers an d vehicles between the U.S. mainland to Hawaii. Matson is reportedly paying $511 million for the ships, which at 870 feet are the longest built in the yard in a decade. The Barrio Logan shipyard will launch the first of the ships on June 15.