M&A: CO. WILL OPERATE AS ARMATA PHARMACEUTICALS
AmpliPhi Biosciences Merges With Marina Del Rey Company
Sunday, May 19, 2019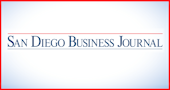 Two companies, new name.
San Diego-based AmpliPhi Biosciences and Marina del Rey's C3J Therapeutics have merged, operating as Armata Pharmaceuticals, focused on antibiotic-resistant infections.
The new company hauled in a $10 million investment from an investor syndicate made up of C3J shareholders, according to Armata. The company has a $16 million cash balance.
Funds will be used to advance the company's preclinical and clinical programs. They fall under the banner of phage candidates, touted as a weapon to eliminate select bacteria in the battle of antibiotic resistance.
Armata will trade on the NYSE American stock exchange under "ARMP." The company is headquartered in Marina Del Rey, with some jobs in San Diego.