Illumina Sues BGI Claiming Patent Infringement
Wednesday, May 15, 2019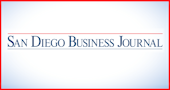 Genomics titan Illumina has filed a patent infringement lawsuit against a BGI Group subsidiary.
The legal action, filed recently in a Denmark court, alleges BGI Europe A/S violated Illumina's proprietary sequencing-by-synthesis chemistry. This technology helped propel Illumina to sequencing dominance, touched on by the San Diego Business Journal in a recent look at potential Illumina competition.
"As we have previously stated, Illumina will continue to vigorously protect our patented technology," said Charles Dadswell, senior vice president and general counsel for Illumina.
Earlier this year, San Diego-based Illumina sued another BGI Group subsidiary, Latvia MGI Tech SIA, in Germany. BGI is headquartered in China.