LIFE SCIENCE: ALSO ON THE MOVE, BIOLEGEND CLAIMS ENTIRE STREET
Takeda's New Site to Help Promote Key Relationships
Tuesday, May 14, 2019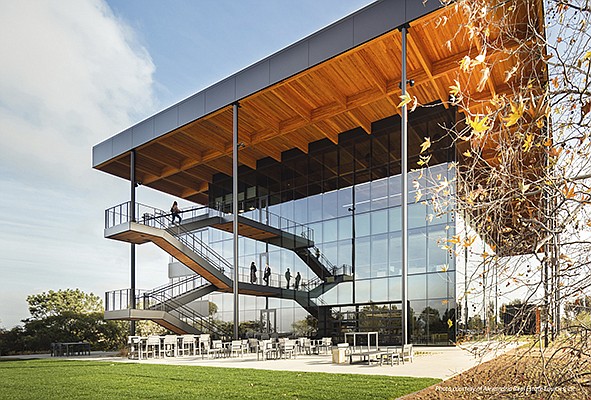 Two biotechs, Takeda Pharmaceutical Co. and BioLegend, recently opened new campuses in San Diego.
Takeda's new 165,000-square-foot research facility in UTC is home to more than 250 employees, specializing in developing drugs for gastroenterology and neuroscience.
The Japanese drugmaker previously occupied two buildings in the Torrey Pines submarket but sought to consolidate operations for the sake of collaboration, both internally and externally.
"By consulting with and leveraging our relationships with academic and industry partners and patient groups, we are able to operate nimbly and efficiently to advance early discovery research that could potentially translate into transformative, life-changing therapies for patients in need," said Steve Hitchcock, head of research at Takeda.
Takeda Ventures, which has invested $35 million in biotech startups in Southern California, also runs out of the UTC site, according to a company spokeswoman.
More and more, biotechs like Takeda are setting up in UTC, where landlords have converted underperforming or vacant office buildings into life sciences sites.
From 2014 to 2017, UTC added 1.47 million square feet of life sciences space, more than the three other San Diego submarkets combined, according to the commercial brokerage firm JLL.
Takeda, which has been in San Diego for 14 years, also has facilities in Cambridge, Massachusetts, and Shonan, Japan. In San Diego, employees' expertise spans structural biology, early target discovery, computational biology and biologics.
Meanwhile, BioLegend recently relocated from Sorrento Valley to an 8-acre, 250,000-square-foot campus in Sorrento Mesa. Its previous spot was 73,000 square feet. 
The project included a complete overhaul of three out of four older buildings along Terman Court that BioLegend acquired in late 2015 for $24 million, according to CoStar Group and public data. Terman Court was renamed BioLegend Way.
BioLegend develops antibodies and reagents for biomedical research, including cell biology, immunobiology and neuroscience.
The campus, the company said, can accommodate more than 1,000 employees as BioLegend expands. Other goals of the campus are improved customer service and increased employee collaboration.
The space includes a robotic picking system in a cold storage space, which BioLegend said is a worldwide first, in what will speed up and improve order accuracy.