HEALTH: COMPANY IS WORKING ON GETTING THERAPEUTICS INTO CELL
DTx Pharma Raises $3 Million, Hopes Its Trojan Horse Is a Winner
Tuesday, May 14, 2019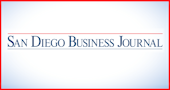 DTX PHARMA
CEO: Arthur Suckow
Headquarters: Torrey Pines
Year founded: 2017
Amount of funding to date: $5.5 million
Investors: Tech Coast Angels, EyeCRO, Friedman Bioventure
No. of local employees: 5
Company description: DTx Pharma is developing a platform to enable new RNA-based treatments.
DTx Pharma, a Torrey Pines startup developing a way to make more effective RNA treatments, recently raised $3 million in Series A funding. The round included investments from previous investors, including Tech Coast Angels and Friedman Bioventure.
Several San Diego companies are developing various drugs that bind to RNA, the genetic material that translates DNA instructions into proteins. Ionis Pharmaceuticals' muscular dystrophy treatment, Spinraza, gained U.S. Food and Drug Administration approval in 2016. Arcturus Therapeutics, Avidity Biosciences and Regulus Therapeutics are also working in this space.
DTx Pharma hopes its proprietary technology will help overcome one of the main hurdles for small interfering RNA (siRNA) treatments: They're difficult to get into cells.
"This class of medicines, they're sort of like a Swiss Army knife. You can do anything, but the problem is you can't get them into cells," said Jeffrey Friedman, managing partner of Friedman Bioventure and chief operating officer of DTx. "If you solve that problem, the economic opportunities are enormous."
DTx's CEO and chief scientific officer, Arthur Suckow, had the idea to use fatty acids as a way to carry the genetic material into the cells. The cell membranes have receptors for fatty acids, which can bring them in with the RNA in tow, like a Trojan horse.
Suckow had studied fatty acid receptors for Janssen, Johnson and Johnson's pharmaceutical arm, as well as for AstraZeneca, before joining Regulus Therapeutics. There, he realized the company would have to solve the delivery problem before it could develop its treatments.

"When you think about viruses and all of these other things that have their own DNA, the body has developed defense mechanism after defense mechanism to prevent invading RNAs from getting into your cells," Suckow said. "I had a conviction that it had to be fatty acids to solve this delivery challenge.'
Suckow joined up with two of his former colleagues at Regulus, John Grundy and Adam Pavlicek, to found the company in 2017. Last year, Friedman joined the company as its chief operating officer after investing in it through Tech Coast Angels.
Friedman, a pediatric hematologist-oncologist who began angel investing eight years ago, said he was impressed by data the company had gathered and decided to join after making his investment.
"DTx is the first of any of these companies that I've seen where I was initially an investor where I was enthused enough about the technology, the team and the pace of the progress; going from a theoretical idea to something that was working in cell culture to something that was working in mice, and for which the number of potential applications are huge," he said.
Onne Ganel, who mentored the company while it went through Connect's Springboard accelerator program, also invested in the company. He later joined as the company's director of business development after his network reacted to the data.
"I thought I had better eat what I cooked," he said. "It's almost a contrarian approach. … People are doing things that are very exotic in order to bring those RNA medicines in. Fatty acids seemed too simple."
In early April, the company was awarded two Small Business Innovation Grants of more than $300,000 each from the National Institutes of Health. It plans to use the funds to develop a treatment for retinitis pigmentosa, a rare genetic disorder that leads to a loss of cells in the retina, and explore using its platform to treat muscular dystrophy.