Wuxi Apptec Buys San Diego's Pharmapace
Monday, May 13, 2019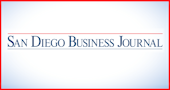 Wuxi Apptec earlier this month bought San Diego-based Pharmapace, the latest in consolidation among niche players in the drug development market.
Founded in 2013, Pharmapace is a contract research organization, or CRO, that specializes in biometric services for authentication in clinical trials, regulatory submissions and marketing support.
"With this acquisition, WuXi Clinical expanded its biometrics capabilities in the United States and Europe," said the Chinese company in a news release.
Deal terms were not disclosed.
Wuxi is no stranger to San Diego. Late last year the company expanded its San Diego footprint through a new center offering pharmacology, discovery and other services.
In addition, Wuxi in 2017 acquired Shanghai-headquartered HD Biosciences, which included HD's San Diego operations.
Upon the deal closing, Pharmapace would become a subsidiary of Wuxi Clinical, the CRO arm of Wuxi AppTec.
The acquisition fits with a consolidation trend in the CRO industry, happening both locally and nationwide, covered earlier this year by the San Diego Business Journal.