HEALTH CARE: FLORIDA FIRM GIVES IT TELEHEALTH CAPABILITIES
Giant AMN to Expand With $200M Acquisition
Monday, May 13, 2019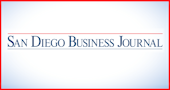 AMN HEALTHCARE
CEO: Susan Salka
Revenue: $2.13 billion in 2018; $1.98 billion in 2017
Net income: $141.7 million in 2018; $132.6 million in 2017
Headquarters: San Diego
Year Founded: 1985
Company description: AMN Healthcare places contract travel nurses, physicians and other health care positions.
AMN Healthcare's recently announced acquisition will expand its footprint in fast-growing markets, while positioning the nation's largest health staffing firm for what could be the wave of the future.
The San Diego-based company is poised to plunk down $200 million for Advanced Medical Personnel Services, which places contract speech and occupational therapists in areas with high need. That includes schools and skilled nursing homes.
The specialty looks to complement AMN's core business of providing temporary travel nurses. But AMN also liked Advanced Medical because of its recently launched telehealth platform that augments onsite school visits.
"It was a unique proposition," Ralph Henderson, president of professional services and staffing at AMN, told the San Diego Business Journal.
An Eye Toward Telemedicine
Advanced uses its telehealth technology to supervise new speech therapists in schools, but Henderson declined to provide further details for competitive reasons. He said the technology could eventually be deployed more widely in AMN, saving drive time and making it easier to reach more areas, particularly in rural geographies.
"With a clinician shortage, trying to find ways to deploy talent more efficiently has been the nature of our business," Henderson said. "Getting into telemedicine capabilities would be a great way to spread that talent and make it more effective."
That said, it's still early days — and much outside of AMN's control would need to happen. For one, telehealth regulations would have to be loosened.
"Quite a few treatments, while they could easily be enabled telephonically or [with] televideo, they're just not allowed at all today," Henderson said, earlier stating: "This gives us a technology platform if legislative changes occur." 
During a recent earnings call, Henderson said that AMN has been exploring telehealth for four years. So far the company has only supported customers using the technology.
Fast Growing and Fragmented Markets
The acquisition is expected to close in June. Beyond the $200 million purchase price, AMN could pay up to $20 million more, depending on 2019 financial performance, for the private company, which is based in Florida.
In the near term, AMN sees in Advanced a way to grow in what Henderson called fast-growing but fragmented markets. AMN brings scale and the ability to cast a broader net in talent searches, he said.
Like travel nursing, contract occupational and speech therapists fill voids. Many organizations have a chronic need because demand exceeds supply, as the education system hasn't produced enough of these professions.

Advanced also has a travel nursing business, though it specializes in tough-to-place positions, so it's unclear how much overlap exists with AMN.
Jefferies analyst Jason Plagman said in a research note the deal is an example of AMN using its strong balance sheet to "deepen its presence" in attractive markets and expand into others.
Last year, AMN acquired another Florida company, MedPartners, for $195 million, as well as Phillips DiPisa and Leaders for Today. Advanced Medical marks AMN's largest purchase yet.
Asked about the competitive landscape of contract education staffing, Plagman said AMN competitor Cross Country Healthcare in 2015 acquired Mediscan, which offers similar staffing services to public and charter schools.
Staffing Industry Analysts last September ranked AMN as the nation's largest health staffing firm, putting Cross Country Healthcare at No. 3. Plagman said education staffing, while an enticing segment, likely won't grow as large as their main market: temporary staffing to hospitals.
Earnings Report Buoys Investors
In recent quarterly earnings, AMN reported $34 million in net income, on $532.4 million in revenue.
Plagman said the earnings report likely delivered a sense of relief to investors, after a string of tumultuous quarters.
He cited the company beating expectations in revenue and other metrics, and noted what appears to be accelerating demand, organic growth in three business areas and AMN continuing to win a disproportionate share of large managed service provider contracts.
Advanced Medical forecasts revenue of $140 million this year, according to the companies. Earnings before interest, taxes, depreciation and amortization, or EBITDA, is estimated to reach $20 million.
"This acquisition appears to make sense financially," said analyst Timothy McHugh at William Blair, saying the deal could boost AMN's earnings per share.
McHugh saw the deal as strategic win as well, noting AMN has room to grow outside travel nursing.

San Diego is home to two other travel nursing firms: Aya Healthcare is another industry heavyweight and Host Healthcare is smaller but growing fast. Asked what the deal means for them, Aya did not respond to a request to comment, while Host Healthcare said via email:
"To be honest, we don't have much of a comment around this acquisition. While AMN is certainly the biggest player in this space, we focus on providing the best service we can to our travel nurses and therapists."
Telehealth could be the next frontier of travel nursing, but in wider health care, some fear the technology will mean revenue cannibalization.
Henderson said telehealth's reimbursement picture could improve, along with regulations. Besides, that's the direction the industry looks to move.
"That's the nature of many businesses today," he said.