ENERGY: SEMPRA SAYS FINANCIAL MODELING SUPPORTS INCREASE
Sempra Q1 Earnings Up 27%, Seeks ROE Increase for SDG&E
Sunday, May 12, 2019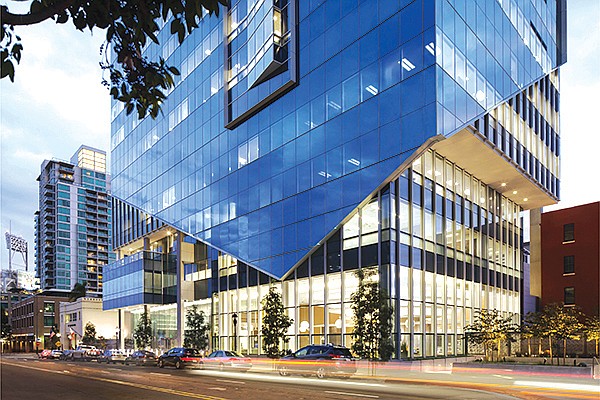 SEMPRA ENERGY
CEO: Jeffrey Martin
Revenue: $11.7 billion in 2018; $11.2 billion in 2017;
Net income: $924 million in 2018; $256 million in 2017
No. of employees: 16,823 companywide
Headquarters: Downtown San Diego
Year founded: 1998
Stock symbol and exchange: SRE on the New York Stock Exchange
Company description: Energy services holding company and parent to San Diego Gas & Electric Co. and SoCalGas, among others.
Legislative proceedings with the California Public Utilities Commission and liquefied natural gas were the main subjects of Sempra Energy's first quarter earnings call May 7. Sempra executives, who reported earnings of $441 million — 27 percent above first quarter 2018 earnings of $347 million — said legislative proceedings related to SDG&E's marketability to investors, and the ongoing milestones for Sempra LNG will play a pivotal role in the second half of the year for the utilities company.
Sempra Energy (NYSE: SRE) reported a 14.3 percent increase in year-over-year revenues for the quarter at $2.9 billion and said earnings per share reached $1.59 in the first quarter from $1.33 per diluted share for the same period last year.
$2.5B Revenues
According to a financial statement from Sempra, its utilities business lines accounted for $2.5 billion in quarterly revenues while its energy-related business lines raised $383 million in revenue.
Sempra filed a request for an increase on its return on equity at SDG&E in the first quarter. The company has requested a return of 14.3 percent compared with its existing return of 10.2 percent. The company also requested an increase in return on equity for SoCalGas. Current return on equity at SoCalGas stands at 10.5 percent. The company last filed a return on equity hike request in 2013.
"We believe our ROE applications are appropriate based on our financial modeling, input from external consulting experts and taking into account the current capital markets and regulatory environment," Sempra Energy President and Chief Operating Officer Joe Householder said during the earnings call. "We also believe the applications will help to ensure the creditworthiness and financial integrity of our California utilities. For additional perspective, our base return on equity requests are similar to our authorized return on equities prior to 2012, which were around 11 percent."
Householder said the last major permit required for the company to begin shipping LNG out of its export facility in Baja California, Mexico, Energia Costa Azul, is an export permit from Mexico. The utilities company secured federal support for its two LNG facilities in the U.S. in the first quarter of this year when the Federal Energy Regulatory Commission approved LNG exports out of Sempra's LNG facilities in Louisiana and Port Arthur, Texas, to nations without a free-trade agreement with the U.S. Sempra also secured FERC approvals to site, construct and operate its LNG facility in Texas in the quarter just ended. Final investment decision on the Port Arthur facility is still slated for the first quarter of 2020.

Prev Next