SD 500: Nancy Hong
Sunday, May 12, 2019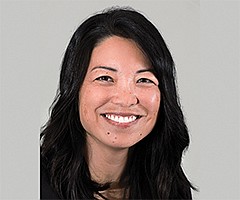 Nancy Hong
Managing Director, Rivervest Venture Partners
Nancy Hong joined RiverVest in 2016 when the Midwest-based venture capital firm opened its San Diego office. Hong was trained in immunology and oncology and has transitioned from post-doctoral biology research to a venture-backed company to being an investor. Hong previously was a principal with BioMed Ventures and at Forward Ventures. She started her career as a scientist at Phenomix, a venture-backed discovery biotech based in San Diego. As a former scientist now in finance, and one of the few women locally leading a VC firm, she is a frequent panelist in the local biotech community.
ALMA MATER
California Institute of Technology, University of California, Berkeley
RECENT HONOR
She won a prestigious Pinnacle Award in the
Service category from Athena San Diego.