Cohu Reports $148M in Quarterly Sales
Sunday, May 12, 2019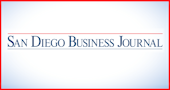 Poway-based semiconductor equipment manufacturer Cohu Inc. reported $147.8 million in net sales for the first quarter of 2019. The business, which announced quarterly results on May 6, saw a net loss of 55 cents per share.
Cohu (Nasdaq: COHU) reported net sales and net loss per share of $170.6 million and $1.40 per share, respectively, in the previous quarter.
The business said it achieved record sales in Q1 2019 from its millimeter wave contactor unit, which manufactures contactors used for testing high frequency semiconductors. The company reported a strong recurring business in Data Center, Cloud & AI, as well as an uptick in automotive systems for the quarter.
The board of directors of Cohu approved a dividend of 6 cents per share to be paid on July 26.
Cohu reported annual net sales of $451.8 million and a net loss of $32.2 million in 2018.
The manufacturer closed on the acquisition of Xcerra on Oct. 1, and stated it expected $40 million in annual run-rate cost synergies from the acquisition to be added to its balance sheet by the first quarter of 2020.