UC San Diego Researchers Get $4.7M for Crohn's Disease Efforts
Thursday, May 9, 2019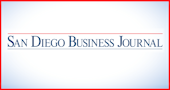 Researchers at UC San Diego were awarded $4.7 million in grants to identify therapeutics and improve surgery for Crohn's disease.
The funding comes from the Leona M. and Harry B. Helmsley Charitable Trust, which wants to help patients manage the chronic inflammatory disease, while striving for a long-term cure. Symptoms of Crohn's disease range from chronic pain to internal bleeding.
Through a $3.5 million grant Dr. Pradipta Ghosh and Soumita Das of UC San Diego Health will put together a team that aims to predict patients' response to Crohn's therapeutics, cutting down on the chances of ineffective drugs or side effects.
The team looks to do this by reverse-engineering the gut lining, via stem cells derived from intestinal biopsies, as well as microbes, immune cells and other gut cells.
A $1.2 million grant will refine existing software that turns two-dimensional medical images of the digestive tract three-dimensional, using a patient's MRI and CT scan. The goal is to help surgeons find the most appropriate type of surgery.
The project includes Larry Smarr and Jürgen Schulze, with the California Institute for telecommunications and information technology at UC San Diego.
"Our team developed the initial software to support my own surgical sigmoid colon resection in 2016," Smarr said. "While working with my medical team using our one-off 3D representations of my colon, it quickly became evident that what was needed is a tool to enable doctors and surgeons to work routinely in the 3D reality of their patients."